on Fri Feb 23, 2018 7:00 pm
I was one of the first to build artificial orgonites. ie Metal resin.
I have been building and selling no artificial orgonites ( resin)  for 5 years now.
 Because the energy cone has completely replaced the artificial orgonites. 
The cone has the same effect as a big chembuster and works even more reliably.
Since the structure and mode of action is a redesign that is completely based on nature,from purely natural substances to the replication of natural neutralizing substances and harmonizing energies.
On my Homepage EnergieKegel.de under "The History" is the development of Cloudbuster listed to the cone.
With tension that has nothing to do, unfortunately, many of the manufacturers do not know how properly your built things work.
I built the things from the ground up and developed and developed them, never stopped. Until the present generation was finished in plaster.
Gladly I try you, also in relation to your question, something the way of working and
To explain the mode of action of the cone. Also for a better overview.
The cone consists of purely natural ingredients, it forms the neutralizing and
harmonizing energies in nature. That means he neutralizes and harmonizes.
Due to the natural structure, it works just like the nature that always wants to achieve a harmonious balance.
The cone and the hearts neutralize energies, when bad energies are removed, the organism can e.g. People thrive again, and have more energy at their disposal, also to get well and stay healthy.
By the way, this is also the reason why no overenergization can take place, since only energies are neutralized or harmonized. Just as it happens in nature.
Since the gemstones / minerals (about 100 vers.) And the crystals (5-9) are cast in a natural bond with the gypsum, the energy is in a constant cycle, as well as mine
Homepage, under "How focussed the Energy Cone its Energy", described with a picture.
Through this natural cycle, which I was able to discover in nature and reproduce in the cone, the gems clean themselves again and again and recharge themselves.For this reason, I do not use metal or aluminum, they would hinder the natural flow of energy.
The gems and the crystals merge into a practical part, a powerful piece of nature.
You have to see the whole thing like nature itself.
The cone and the hearts worked at the level of information, as nature did by the way. Matter is made of energy, everyone knows that today, but for energy to consist of matter, it needs information, and even our scientists have already accepted and acknowledged it.
And it is precisely with this information that the cone starts, because exactly this principle also works with nature. Otherwise it would not be possible, e.g. to dissolve the chemtrails, unnatural clouds, etc.
The cone solves the information underlying the chemtrails, the information that makes the chemtrail, with all its ingredients.
Now, if this information is neutral or neutralized, like a blank document, then the energy lacks the information to condense into matter.
This dissolves the chemtrail and the unnatural clouds, and it also dissolves the ingredients and can not fall to the ground.
The same applies to electrosmog, cell phone radio radiation, etc., which are simply neutralized and harmonized in the most natural way.
(As already mentioned, the cone consists of purely natural substances, not an artificial element is included. If the cone o the hearts are at one, it is just like having one Walk on a flower meadow, sitting on a clearing, a waterfall or stream runs along.)
Exactly according to this principle works also the nature, how else could it of such
to recover many a catastrophe that man has done to her. And by rebuilding
This mode of action, which was only possible by a purely natural structure, works
the cone.
The radius of the cone is min. 5km, these refer in particular to the hole in the
Cloud cover is created, but this can be much larger than the 5km. On the ground, a cone does its work far beyond the house, harmonizing the energies in the environment as well.
The closer you are to the cone, or if you are in the same room or house, is the
Effect most effective.
The cone you can set up where you have the best feeling, there is something special there
not to be considered. My favorite is the cone in the living room 
on the bedside table or in the living room on a low cupboard, or even on the window pane.But as I said, you can decide because completely free.The dearest, the cone is placed where life plays, where to The cone acts in all directions, even down, the rock crystal in the middle of the cone ensures that part of the energy goes up to the sky. 
But as already said, only a part, that's why he does not need to be in the basement. The hearts are also meant for traveling, as a cone, due to its size, can not be taken along. If you e.g. away from acquaintances or in a hotel. In the open field, e.g. The heart radius is 20 to 50m. If you have a heart in your pocket, jacket pocket, etc. it protects you on the way optimally. The cone dissolves unnatural cloud cover and chemtrails, the natural clouds remain, which is also very important, otherwise the consequences for the land and the agriculture are not good. The influence on the weather has been shown as follows, the cone restores the natural typical weather for a region.
 That means it can provide sunshine and blue skies, as well as energetic and important rains. So, for example, they use it in Spain vers. drought-stricken farmers to bring rain back to their fields, and in Germany to avoid storm and hail damage.The cone unfolds from the inside out of the house, its full effect on the chemtrails and unnatural clouds.
You can the cone and also making the weather weatherproof, this has been helped by my numerous customers worldwide. 
The following has turned out to be the best option. 
The cone or the hearts with 2 or 3 layers of environmentally friendly clear coat lacquer
 but I make it from the environmental point of view, not, as already mentioned as the cone unfolds its full effect from the inside out. It would also be enough to protect the cone and the hearts simply from rain, with a glass or plastic hood, is also often done, or simply put under a roof. There are also customers who paint the cone and the heart nicely and then make a final coat of clear varnish. a cone has been standing outdoors for more than a year, but it does not freeze in winter either. Slowly you can see the traces of rain on the cone. 
If you want to set the cone and the hearts out permanently, then please use one of the above tips.But as I said, choose a nice place in the house or apartment, it is best to go to your intuition where it feels good also usually the best place. Because even from the inside, the cone unfolds its full effect on the sky and the chemtrails.
You can also bury the cones and hearts.Gifting.They are perfectly integrated into the soil, and remain stable in the soil.On the surface of the cone and heart then even crystals start to grow. In Australia (and also in Sweden) the plaster casts are poured in my classroom in some schools in the country, so the kids can just take it home.
on Fri Feb 23, 2018 7:03 pm
Good morning Mr. Reinwald,

Thankfully I received your package yesterday.

I already carry the heart with me and the cone has found its place in the bedroom.

The energy that radiates from both objects I could clearly perceive by pulsating energy flows in the fingertips and hands, especially the much smaller heart has surprised me with his tremendous energy: D

I feel mentally clearer and calmer since the orgone suppliers are in the household. The first night was very pleasant, I could sleep much easier than usual, I fell asleep before going to bed even at about 21.00 clock with the heart in my hand on the couch, actually I wanted to then complete my evening training program, me But I felt so tired Tired that I just wanted to sleep, next to the heart and the cone.

Thank you for your loving care, the fast delivery and simply for being an idealist. "

"Hello Timo, already have a cone of yours that is just great, my son (6 years old) can even feel the energy above the cone! Thank you so much!"

"Hello Timo, delivery today around noon.After days of blanket gray in the sky came here and there sky suddenly appear.So about 15:30 bright blue sky, every now and then pushes a cloud in front of it.On our house are the fewest clouds. In fact, I felt the cone was charging me with energy when I first held it in my hand after unpacking. "

"Dear Timo, thanks for the speedy delivery of the orgone hearts, it is amazing what a powerful effect they have.Today, I was in town by car and I took a heart in. I have to say that this morning, the whole sky was full of chemtrails I've never seen a lot of them, but on the way I noticed that the sky cleared up where I was traveling with my heart and when I came home, the sky shone in a clear azure blue, as I have not seen it for a long time In addition, there was a clear, clean atmosphere in the house (where the other hearts were), the sun light was quite different, somehow brighter and much clearer, unbelievable, I'm thrilled and I'm looking forward to the energy cone I've read the enclosed booklet and love how much love you've devoted to making the energy cone - the people like you need the wel Thank you very much! Greetings, B. "

"my friend in Germany has his energy cone for days and has measured 100,000 Boviseinheiten.The small extra heart would have apparently 50,000 Bovis. Super."

"Hello Timo Reinwald,

First of all thank you for the super fast shipping !!!
The cone is now in the hospital with my seriously ill father. 14 hours after setting up my father was out of critical condition over the mountain! Coincidence?! I believe in the cone and would like to thank you for this wonderful thing. I will still distribute the hearts, they are also great as a gift and the recipient does not have to know what's behind it :-)). "

"Hello Timo,

Thank you, I picked up the package today and also transferred the same. As I said all who come in contact with positive changes, each in his own way, I can set up a hotline right now. sincerely m. "

"The cone did its job from the very first second, it's in the living room and spreading well-being, but it's visibly effective on the outside as well, and it cuts the fag in the sky!" I also started one a while ago "Cloutbuster" to build, but with the conventional means such as polyester, etc. But the effort was then too big and I have set the whole Your idea with the natural building materials is just brilliant ! "

" Hello Timo!

So thank you for your great energy cone! This blue sky over our house is a dream! It is sensational to watch! All around cloudy hazy blue-gray, and above us wonderfully clear light blue! Thanks alot! Will you recommend to my customers in my next newsletter, if that is ok for you? Even the little hearts have a wonderful energy, and you can use them to keep their energy levels much easier! And through the cone, the space energy has become even better!

Toi toi toi, keep it up! All dear G.

Ps: Will definitely order soon again;) "

"Dear Timo Reinwald!

first thank you for the promte delivery - I was surprised how fast that went! The energy of the heart I could feel immediately - even my little daughter could not release a heart - she is 15 months old! "
on Fri Feb 23, 2018 7:03 pm
"Dear Timo
The energy cone is awesome;), finally the annoying smell in my room is out of my latex mattress and I feel a lot more powerful and inspired to do a lot more things that have nothing to do with the computer like Just great and already on the first day I have already given away all the hearts and will soon have to order new, they are just too good.

Thank you and love D.
 "" Dear Timo , Thank you very much !!!! I am looking forward now that they are gifts to people who need the heart very much I have felt the effect of the heart before they came to me they were right next to me! At the beginning I thought so well what is going on with me now ... but when 15min later the post came to me was clear what was going on ...... just great !!!! MANY; THANKS TIMO !!!! 
My partner has at you ordered the cone and also there I was allowed this morning Experience the effect and that was so fascinating I'm overwhelmed! Greetings d. "
Hello Timo Reinwald Thank you very much for the speedy delivery of the cone and the hearts. I was really looking forward to it and was very excited about the effect of the cone. She is absolutely amazing! Shortly after unpacking the cone I felt a tingling all over my body. How to say so an animation. This was followed by a deep relaxation as I have not experienced it for a long time. Since we have the cone in the apartment, the mood is totally peaceful. We are much more relaxed. I feel like being with me again. A wonderful feeling !!! Before, everything was somehow fogged, inhibited, foreign, tense ... .. simply uncomfortable and laborious. I now have direct access to things. I just do what I want to and should do. That was just not possible before. So I felt very lazy and dissatisfied. I also feel that now I am doing more which is good for me. Yesterday, my son told me interestingly: "Somehow I have no desire to" gamen "". This statement surprised me a lot. I already gave him a computer ban because he could not dose his activity on the computer.
 I'm totally happy and very relieved. 
I can look forward to what may come ... For this positive change, I am very grateful to you and your wonderful work! The documentation about your work, by the way, I think awesome. It is very detailed, extremely instructive, understandable and beautifully designed. Now I would order 2 cones and 4 hearts! I paid the bill of the first order just yesterday. I hope that worked. Now I wish you a wonderful weekend ... Many thanks and best regards J. "" 
Hi Timo, this is Michael from Palma de Mallorca, thank you very much the package has arrived, the hearts have been distributed among many friends and positive resonances are coming to me every day to ears. "
Hello TimoWe of course have it unpacked immediately. And what can I say the effect was immediately felt ... how it worked out exactly, I can write you bad here, laughing ... but it was very much love in the room! Best regards and a relaxing WE A. " "
Hello Timo, I wanted to thank you for the energy cones and hearts! I have given some and received only positive feedback so far! It is amazing ... I also noticed improvements since I have distributed the cones and hearts in the apartment, you can tell that something is different and in a positive way

So vieeeeeeeelen Thanks! and keep it up! another order will follow soon;) Greetings V. 
"" Dear Timo, the right words are missing to describe your nature !!! An angel in human form will probably do it best. Sincerely Claudia "
" Hello Mr. Timo Reinwald, the energy cone is awesome! Tonight was only around our house cloudless and starry sky! Right now I'm watching a lot of airplanes in the blue sky (..... 1/2 hrs from the FFM airport) and as their pictures show, just this picture above the house. Thank you for your great invention! LG R. "" Today I can say that I notice something at work. I sit in front of the PC most of the time and often have a headache and eyesight problems by evening. Also with us is usually a tense mood, at least for me. Today I can say, I had a very good day. The mood was relaxed and funny and I did not have any headaches or eye problems. "The Cone works just as well as you described it. I've already ordered an order about 2 months ago and since then you can watch the right as chemtrails dissolve. 
"Hello Mr. Reinwald, last December I ordered the power cone and it is now in mine
on Fri Feb 23, 2018 7:06 pm
Hello Timo,
After I made the order, I was alerted to a forum entry that doubts the effectiveness of the cone and even described it as harmful. Surely you know the thread:
http://www.cb-forum.com/Forum/index.php?...ge;topic=3767.0
Can you please comment on that? Of course I do not want to bring more damage into the house.
Many thanks for your response.
Love from
Ursula
Hello Ursula, one anticipation, I do not want to convince you that if you prefer to cancel your order this is not a problem. Just pay attention to what sounds right to you, just follow your heart when your heart sings, laughs and dances, then you are you on the right track. You know the feeling, and know what I mean. When you are happy, I am content and happy, that is the most important thing that you then radiate. Now for my answer, which I must write with a rating, otherwise it would not be understandable by the expression. My words to you ...
"Do not let that unsettle you." That's just not true.
The article and other articles are intended only to unsettle people and to sell more chembuster and orgonite from artificial resin.
It can not be that the people who sell it, voluntarily destroy your health. But the money lures too much. I can speak from my own experience as I have been for years
experimented and built with epoxy resin and polyester resin. one can
The best gas masks that exist are used in casting, yet you can smell the vapors of the
Polyester and epoxy resin still. In addition, the vapors diffuse through our largest organ the skin.
So after a few years I got physical problems, I do not want to think about it
how people are after 10 to 20 years
The second thing is the price, if you look at how much the energy cone compared to
a chembuster costs, at the same, actually better performance of the cone. Can you almost understand her fear. But they would just have to change their saddles and say goodbye to the old ones.
That they try to unsettle the people, but does not really much, because the cone usually recommends from mouth to mouth, which is the best advertisement. Because there are own tangible experiences.
The cone has a similar mode of action but is a very advanced development compared to the chembuster. So he replaces the chembuster and works from the inside out of the flat or the house.
The current energy cone made of gypsum has completely replaced the chembuster. Soon, no other artificial resin devices will be built. Since I unfortunately encountered some unreasonableness in the construction of the same, so I could often or had to observe how the mixture of metal and resin were misused as a transmitter or antenna.
Now, to the technical side, when you look at hardened gypsum under the microscope, you can clearly see the many crystals, gypsum cures crystallin, thereby creating natural microcrystals that conduct far better energy.
Anyone who has a microscope can check that out at home. The second thing, I've never shed metal in connection with plaster. But this is intentionally written in such a way (in order to protect against possible comparisons), since this is not wrong, the plaster in combination with metal does not work.
On the other hand, it also shows that they have never had an energy cone in their hands, which would certainly have changed their point of view. The gems and minerals also contribute to Crystalline Curing.
Metal would severely hinder curing and the flow of energy.
I studied geology for several years and that's why I'm so sure about gypsum.
With the energy cone absolutely natural energies are reproduced, which was only possible by a structure of purely natural substances. There is no metal and no other non-natural, so not originally occurring in our nature substance used.
Nature always provides an energy balance, which is quite normal, a law of nature.
Therefore, the cone, or nature, because the cone is a simple but very effective image of nature, in the apartment or the city quite naturally provides for an energy balance, a neutralization of energies, just as nature does. It is a completely natural principle, which is undeniable.
The cone and the hearts neutralize energies, when bad energies are removed, the organism can e.g. People thrive again, and has more energy available.
Because of this, no overenergization can take place.
The cone helps against the chemtrails by neutralizing them or neutralizing the underlying information. Information turns energy into matter. The cone solves this information, the matter is then new again
on Fri Feb 23, 2018 7:07 pm
tral, with the eye no longer visible.


 This behavior I could observe in nature, and so I developed the cone. It is purely a replica of nature. Rich has concentrated only the energies in the environment, so he also recommended the use of his orgone accumulators only in rural areas or e.g. in mountain huts.So where there were still pure nature, and not too much bad energies. 


The construction of Reichs cloudbustern consisted only of large pipes with a connection to the water, which or where actually the water has attracted the energies and has derived. 
Therefore I was able to achieve such a tremendous increase in effectiveness of the chembuster then in which I at the Nevertheless, I was not satisfied with it, my head or conscience did not want to calm down with it, I wanted to help people and nature, but at the same time brought a lot of chemicals into the environment. 


So I went back more and longer into nature to better understand it. 

Reich and Schauberger also reached their inventions and knowledge in this way. 
I understood nature better and better, found more and more of these places of power as they are everywhere.

 I found the most thriving and healthy nature right next to power plants and even nuclear power plants. With a variety of animals and plants as they are rarely found elsewhere. Wondered why does life flourish here. On the one hand, this was a restricted area for humans, and on the other hand, these places exuded a special energy. 

By living with nature and in nature, their secrets began to reveal themselves to me, and I understood why there was such a special kind of energy here. Resisted people, Disputing people as well as people who were very susceptible to electrosmog, were and will be gentle, content and happy in nature. If you use a cell phone at one of these places of power, very electro smog sensitive people did not react at all, as if the radiation were not present although full reception prevailed. This energy, this mode of operation I could rebuild in the energy cone. 


Which gives you the opportunity to take these places of power into the cities in civilization.
 And there to use their neutralizing effect. 
More than 5000 customers worldwide confirm me again and again by their positive feedback, how well this worked out. 

The cone has now spread worldwide. 

Also, the energy in Germany has already raised significantly, you can feel very well in there and then feel it quite clearly. It is trying nature from the cities. from civilization, because it is well known that nature is our connection to a higher level of knowledge. 

That's why the energy cone works so well, it's a natural construct that is not tangible or vulnerable to artificial energy. It brings the energy of nature, especially the neutralizing energies of these power places to us. 

The working principle, why it works, is a simple replica of nature. Reich wanted to have a similar effect, if not the same with his orgone accumulators, but he probably did not have the time to finish his ideas or improve.

The past or the history has shown us too often that one to eliminate something artificially created, not created again by something artificial. The chemtrails are artificial, the electrosmog is artificial, even the resulting out of balance energies (eg earth rays, water veins) have arisen only by artificial intervention in nature. 

If we try again through artificial intervention, this actually whole artificial problems to eliminate, where do we then arrive again. 
In a cycle, right, but the time is definitely ripe to get out of this cycle.Why the org has opened my mind, the other but not, you can not with a clear conscience, tons of polyester and epoxy in the nature distribute that It takes hundreds of years before it decomposes.

When we finally start to think like a whole, as all are one.

 Here's a positive feedback that just reached me.

 "Dear Mr. Reinwald, thank you for the energy cone! Three weeks ago I ordered the first one and since then I am doing much better in my flat, I have not been able to sleep there for 4 months and I can not stay at all for a while I slept like a marmot for the first time, the effects of radio radiation all around are diminished, and I have a lot more energy, I also donated a cone to a friend and since then I've had it the cat is housebroken (was a problem for 6 months). I know other people who use the cone that is why I order a few more.




. Thanks again and best regards, J ... 


"We have been using the energy cones made of plaster for over 2 years by our numerous customers all over the world, without ever having a negative one 

What I now had to rediscover that the people who have written in the forum such things, now sell their own products under my name energy cone, because it is not a protected name 
EnergieKegel.de are the The world's most widespread supplier of orgone products

If I hear something that was told to you, I first wonder if the people who have told you, including possibly some producers of Orgonitprodukten are, know how their built things work at all, and why and how they work and achieve their effect, which I do not find, only contradict nasty accumulations of sometimes even slightly funny-looking explanations about electrical charges, etc.


 Please think about how many years (> 10) there are already orgonite products made of artificial resin, including chembuster. And then please show something lasting, the last years. 



My job is not to make money, you can not with my prices either. I want to wake you up and in-shape (get in shape get in Form aka to INform). And do not ask the earth any more to pollute, the earth does not want that anymore, and has no more acceptance for it. 


There are enough reasons to work against this, and even invent fake names and statements.




Greetings

Timo
on Fri Feb 23, 2018 7:39 pm
Building instructions



I offer everyone the instructions for building for the energy cone and hearts as we are already with so many people who manufacture and distribute the cone. Only together we can achieve a lot. Every thought it would be our goal to profit is not conducive to the cause.
 
The development has indeed taken a few years time, the production itself is all the more easier because everything is pure nature. If you want you can even produce energy Orgon cones and heart according to these instructions, it is really easy to  produce something and then you can distribute the cone and hearts in your region and also give away as gifts to others.

We even have some schools in Australia and Sweden, where in the classroom after my instructions these things are prepared. Students can easily take them home . What improves the health situation of the whole family and enhance academic performance of the students since they go with more fun, joy and energy in learning.

It would be very glad if also teachers from Germany and other countries would find,
so as to refer also to other schools in their teaching.

These are shapes used in a class, who build after my guidelines.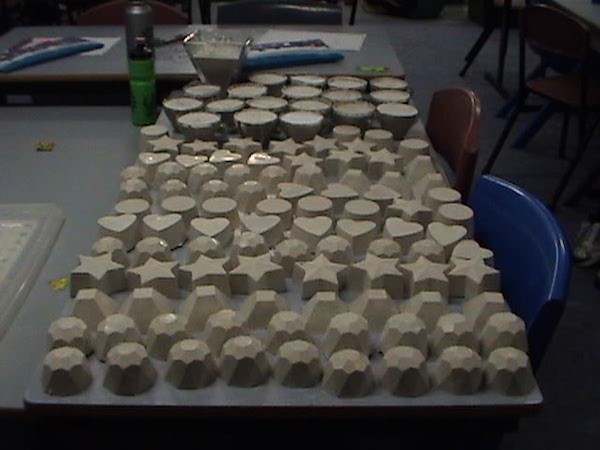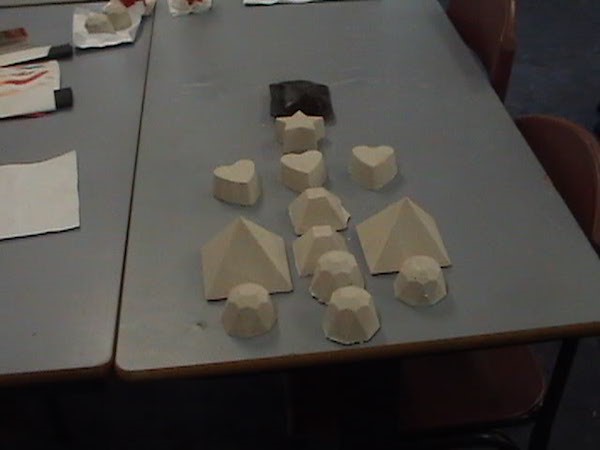 I love to imagine the building instructions with tips for casting are available, the building guidelines are available for everyone, because only together we can achieve a lot.

It makes me very happy if you want to build something yourself, even more so when you go the natural route, using natural materials. Children have real joy at building it themselves and to later enjoy the benefits too. Here is a guide for you. You should use gypsum as pure as possible  look at the DIY store for a hobby plaster for casting, if no additives are listed on the package, it is pure gypsum. The cheaper of the plaster, the purer it is usually because additives cost money.
Take  many different  gems / minerals (about 100 small stones) as you can get, the more diverse all the better.
Silica ( quartz) sand from the beach is still the cheaper option, as there are also many small crystals and minerals essentiallly ( and some sea salt). I always take a lot of different gems. But those gems can also be slightly larger.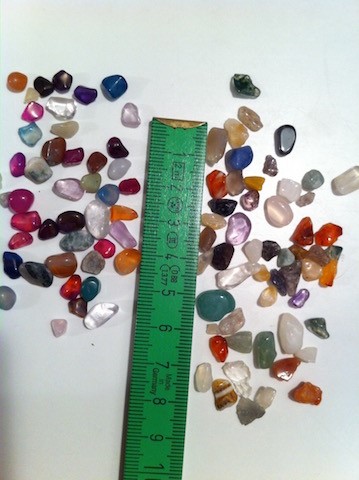 You can use a form, best to use plastic/silicone, apply a tiny amount of olive oil into the form there pour he plaster-water mixture pure, like it says on the box of plaster, each plaster reacts as something different. 
Mix with the sand/gems and a spoon of natural salt. 
It is best for the stones to be well distributed (randomly as in nature), as that is the best way to replicate the neutralizing and harmonizing energies of nature replicate. And if you're want to give a part of the energy certain direction, you can use a natural grown rock crystal
.
After 30 to 60 minutes you can turn the forms and easily get the slide out. This must then dry for some days to be completely dry, at room temperature this will take about 3 to 4 days.
That's the best way.

Everything should remain as natural as possible, thereby creating only one neutralizing and harmonizing energies to form in nature. Which can then be used quite universally, as varied as nature itself.

The size is not as important, but more so the distribution and reaching of many people.
The cone appears small only on the visible level  it is on the energetic level huge. On the energy level, for example, the cone the size of a skyscraper which corresponds,
to put it symbolically. Therefor the apparent size is not so important.

The cone and hearts only consist of natural ingredients, which is why no metals werden. Poured metals obstruct the natural flow of energy and weaken the effect. Therefore please do not pour metals into the plasterite.

The heart and the cones are also often nibbled at by deer,horses, dogs and cats and sometimes completely eaten.Animals do ​​this to replenish their mineral balance . Do not be surprised when it comes to animals like to eat the plasterite.

This calls for some responsibility from us, which is why I don't pour  metal shavings. As mentioned above already, the metal shavings would also obstruct the natural flow of energy, as there are usually alloys of metals that do not occur in nature. Gems can contain natural ores ranging as metals this is perfect as they are purely natural.

Then I wish you  a lot of fun and success if you like to create something.
As already mentioned above, also for children it makes this much fun working with the plaster.
If the cone or the heart are there, just you have to protect against rain.

If you want to place the cone outdoors, for example in a garden which is further away from the house, then you can take one of the following tips to make Weatherproof around the cone.

One can make the cone and the hearts weatherproof with 2 or 3 layers of environmentally friendly clearcoat paint.It would also be sufficient and easy to protect against rain by using a glass or plastic cover for the cone and the heart or simply put it under a roof. It is  fun to paint and then apply a final clear coat on it.

Even painted the cone and the hearts work 100%.Paint that is suitable for children's toys, is best to be used. We have with us also cones are permanently unpainted outdoor, one can see the traces of the cones, but they work even after years of 100%. And also survive the winter.
You can also bury the cone and hearts into the ground. On the surface of the cone and hearts even crystals begin to grow. Here are some pictures of cones and hearts that have been painted.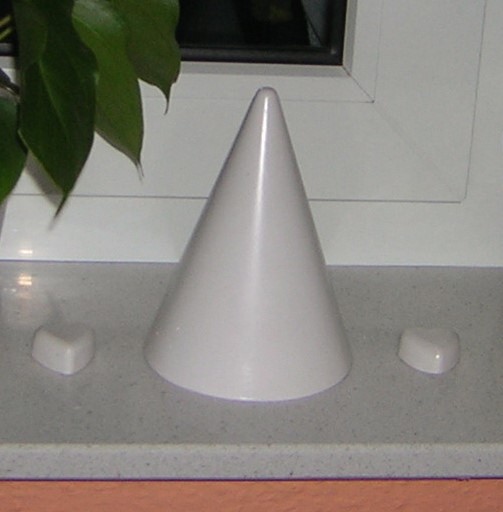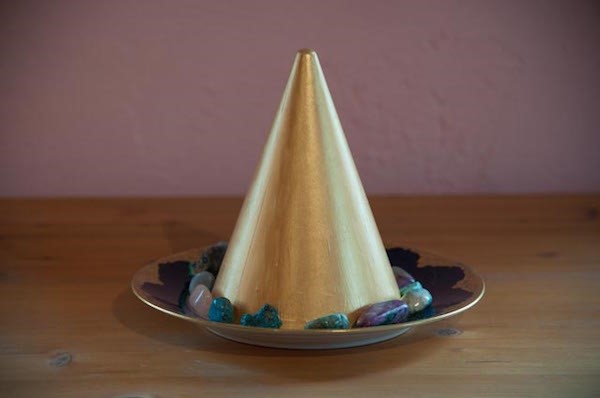 on Fri Mar 02, 2018 5:53 pm
Robert Berglund added 8 new photos.
Auum Sylphs wisiting Siknäs when Creations Are born.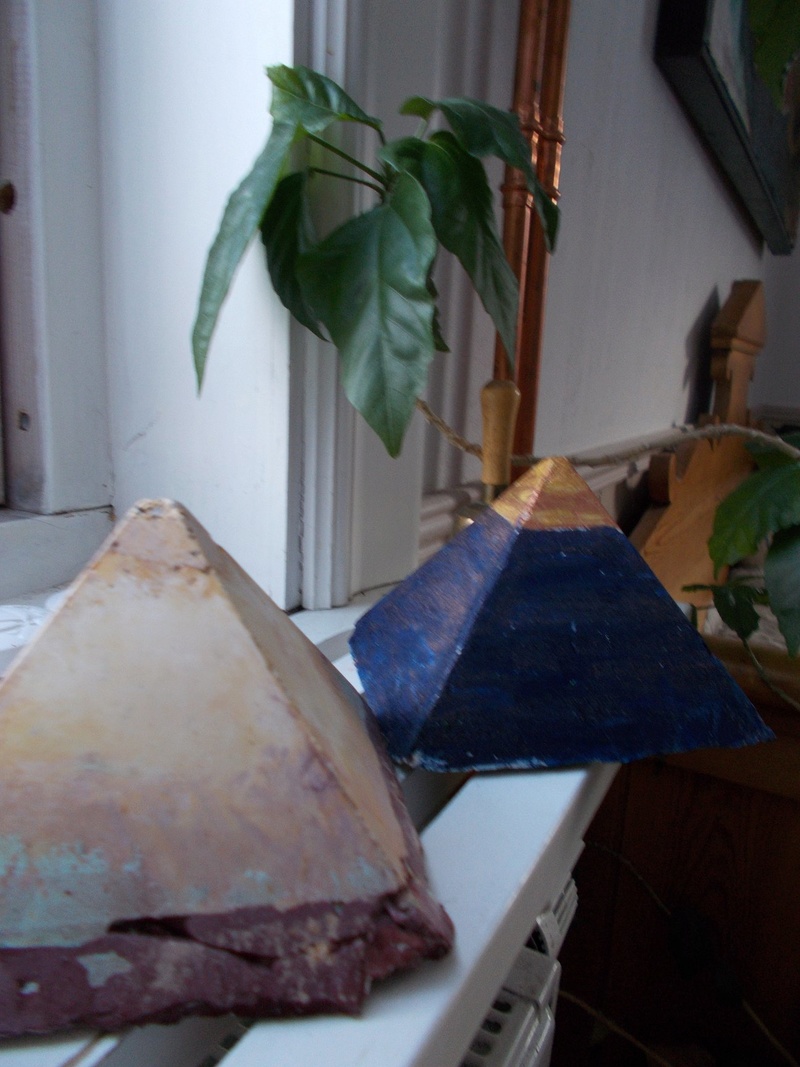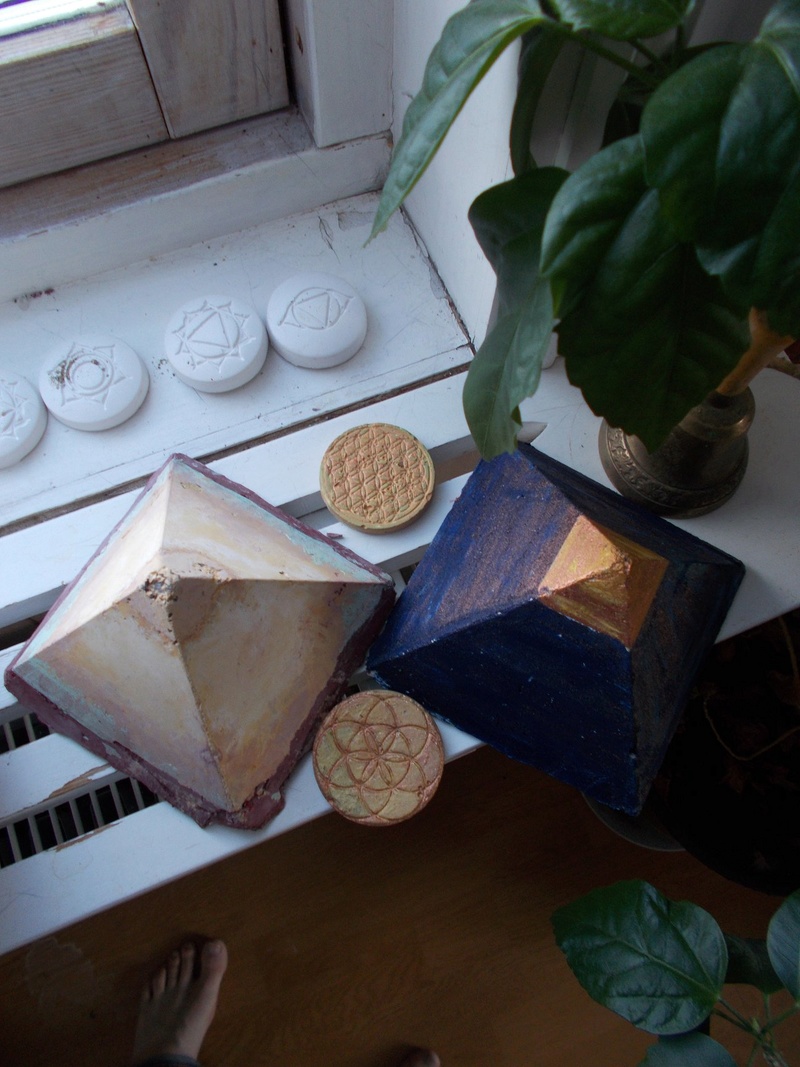 Robert Berglund added 10 new photos.
På tork LAM, VAM, RAM, YAM, HAM, SHAM, AUM, AUUM

Permissions in this forum:
You
cannot
reply to topics in this forum