Page 8 of 8 •

1, 2, 3, 4, 5, 6, 7, 8

Building instructions



I offer everyone the instructions for building for the energy cone and hearts as we are already with so many people who manufacture and distribute the cone. Only together we can achieve a lot. Every thought it would be our goal to profit is not conducive to the cause.
 
The development has indeed taken a few years time, the production itself is all the more easier because everything is pure nature. If you want you can even produce energy Orgon cones and heart according to these instructions, it is really easy to  produce something and then you can distribute the cone and hearts in your region and also give away as gifts to others.

We even have some schools in Australia and Sweden, where in the classroom after my instructions these things are prepared. Students can easily take them home . What improves the health situation of the whole family and enhance academic performance of the students since they go with more fun, joy and energy in learning.

It would be very glad if also teachers from Germany and other countries would find,
so as to refer also to other schools in their teaching.

These are shapes used in a class, who build after my guidelines.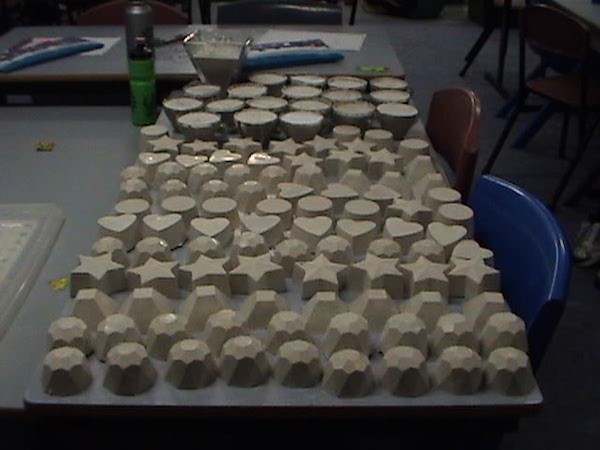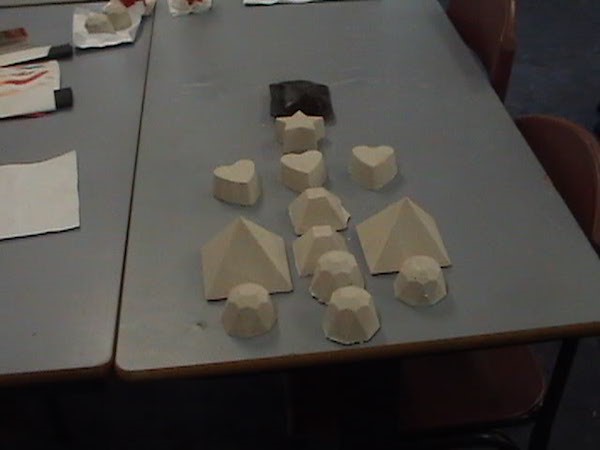 I love to imagine the building instructions with tips for casting are available, the building guidelines are available for everyone, because only together we can achieve a lot.

It makes me very happy if you want to build something yourself, even more so when you go the natural route, using natural materials. Children have real joy at building it themselves and to later enjoy the benefits too. Here is a guide for you. You should use gypsum as pure as possible  look at the DIY store for a hobby plaster for casting, if no additives are listed on the package, it is pure gypsum. The cheaper of the plaster, the purer it is usually because additives cost money.
Take  many different  gems / minerals (about 100 small stones) as you can get, the more diverse all the better.
Silica ( quartz) sand from the beach is still the cheaper option, as there are also many small crystals and minerals essentiallly ( and some sea salt). I always take a lot of different gems. But those gems can also be slightly larger.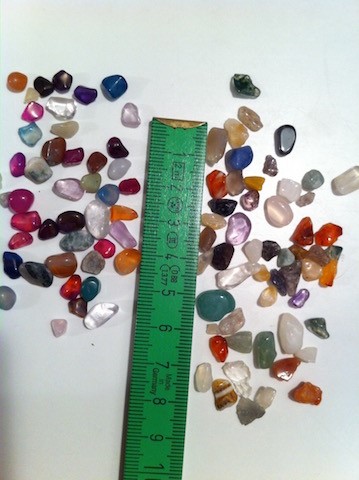 You can use a form, best to use plastic/silicone, apply a tiny amount of olive oil into the form there pour he plaster-water mixture pure, like it says on the box of plaster, each plaster reacts as something different. 
Mix with the sand/gems and a spoon of natural salt. 
It is best for the stones to be well distributed (randomly as in nature), as that is the best way to replicate the neutralizing and harmonizing energies of nature replicate. And if you're want to give a part of the energy certain direction, you can use a natural grown rock crystal
.
After 30 to 60 minutes you can turn the forms and easily get the slide out. This must then dry for some days to be completely dry, at room temperature this will take about 3 to 4 days.
That's the best way.

Everything should remain as natural as possible, thereby creating only one neutralizing and harmonizing energies to form in nature. Which can then be used quite universally, as varied as nature itself.

The size is not as important, but more so the distribution and reaching of many people.
The cone appears small only on the visible level  it is on the energetic level huge. On the energy level, for example, the cone the size of a skyscraper which corresponds,
to put it symbolically. Therefor the apparent size is not so important.

The cone and hearts only consist of natural ingredients, which is why no metals werden. Poured metals obstruct the natural flow of energy and weaken the effect. Therefore please do not pour metals into the plasterite.

The heart and the cones are also often nibbled at by deer,horses, dogs and cats and sometimes completely eaten.Animals do ​​this to replenish their mineral balance . Do not be surprised when it comes to animals like to eat the plasterite.

This calls for some responsibility from us, which is why I don't pour  metal shavings. As mentioned above already, the metal shavings would also obstruct the natural flow of energy, as there are usually alloys of metals that do not occur in nature. Gems can contain natural ores ranging as metals this is perfect as they are purely natural.

Then I wish you  a lot of fun and success if you like to create something.
As already mentioned above, also for children it makes this much fun working with the plaster.
If the cone or the heart are there, just you have to protect against rain.

If you want to place the cone outdoors, for example in a garden which is further away from the house, then you can take one of the following tips to make Weatherproof around the cone.

One can make the cone and the hearts weatherproof with 2 or 3 layers of environmentally friendly clearcoat paint.It would also be sufficient and easy to protect against rain by using a glass or plastic cover for the cone and the heart or simply put it under a roof. It is  fun to paint and then apply a final clear coat on it.

Even painted the cone and the hearts work 100%.Paint that is suitable for children's toys, is best to be used. We have with us also cones are permanently unpainted outdoor, one can see the traces of the cones, but they work even after years of 100%. And also survive the winter.
You can also bury the cone and hearts into the ground. On the surface of the cone and hearts even crystals begin to grow. Here are some pictures of cones and hearts that have been painted.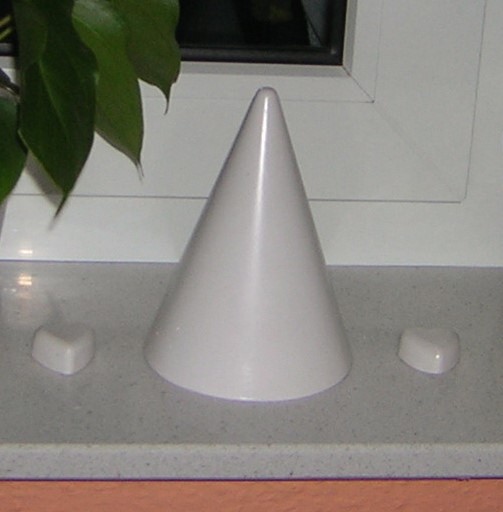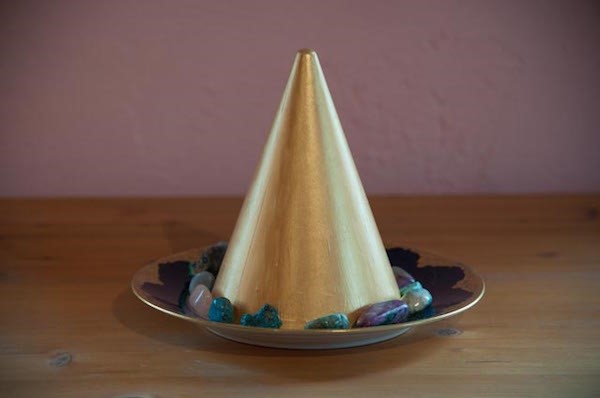 CEO




Posts

: 1451


Reputation

: 2


Join date

: 2018-01-06


Location

: France



Robert Berglund added 8 new photos.
Auum Sylphs wisiting Siknäs when Creations Are born.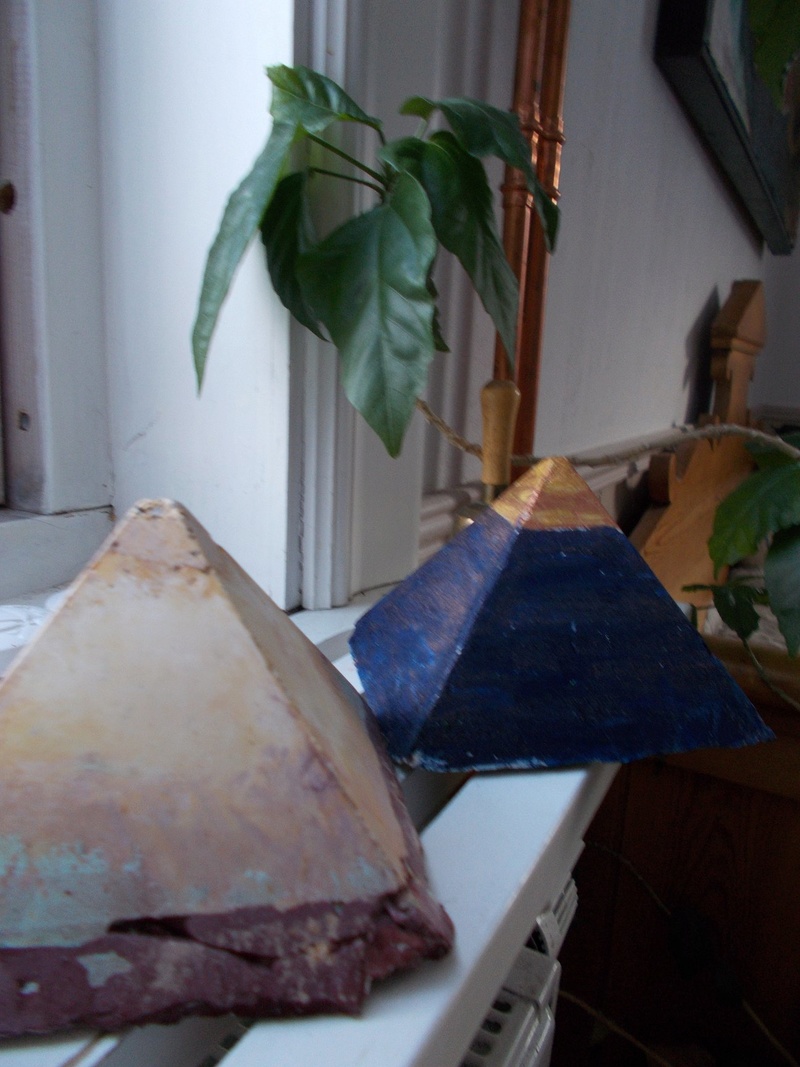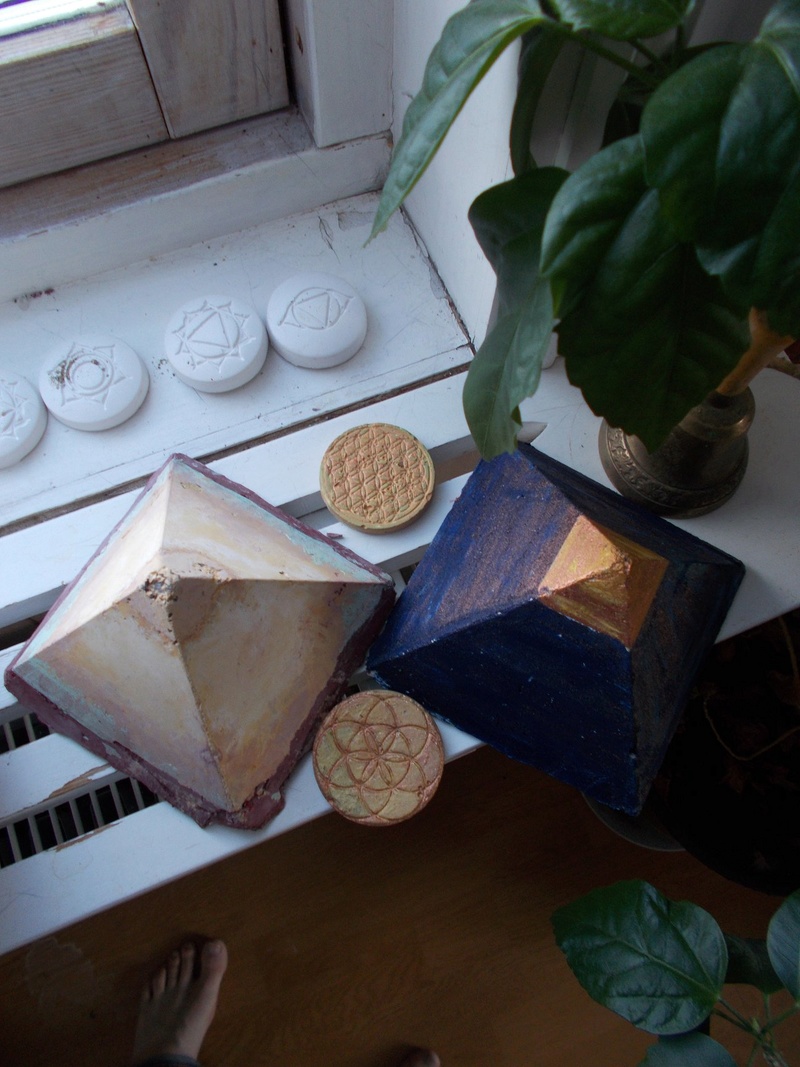 Robert Berglund added 10 new photos.
På tork LAM, VAM, RAM, YAM, HAM, SHAM, AUM, AUUM
CEO




Posts

: 1451


Reputation

: 2


Join date

: 2018-01-06


Location

: France



Charles Reading
2 hrs
First, thanks for this excellent group! Really appreciate the info here.
Well we made our first batches of plasterite. (My wife and I). The first we added a small amount of soaked saffron water to the rest of the water for color and included the threads for texture, but they ended up looking like rust. LOL
Also shaved amber resin which held the scent amazingly! And some flower, gem and colloidal tincture drops of various types (my wife is a practitioner so has a collection).
The second batch added myrtle leaves, rosemary powder, lemongrass essential oil, essences as above and a spoon of acai powder to see how the color would be. The powder and leaves of course made it more crumbly but it was an interesting experiment. Lemongrass helps repel insects and a few drops went a long way! Wow. Great how the plasterite holds the scents so well. Also, the acai powder separated apparently and landed stronger in some areas of the mold. Same with saffron color tint even though the water itself was well blended.
The saffron color does rub off as well. I'm guessing turmeric would too?
The one issue so far is that the sand is pretty dark and gritty and some of it sinks to the bottom of the mixing bucket. Does anyone think we should try a different kind? We may go up to the mountains here in Colorado and find our own now that weather is getting warmer, but for now have a bag of Gardner's sand from home depot.
Oh, also my wife made a natural finish cream out of beeswax and olive oil that is used on natural toys. Seems to mitigate some of the rub off but love to hear any suggestions for this.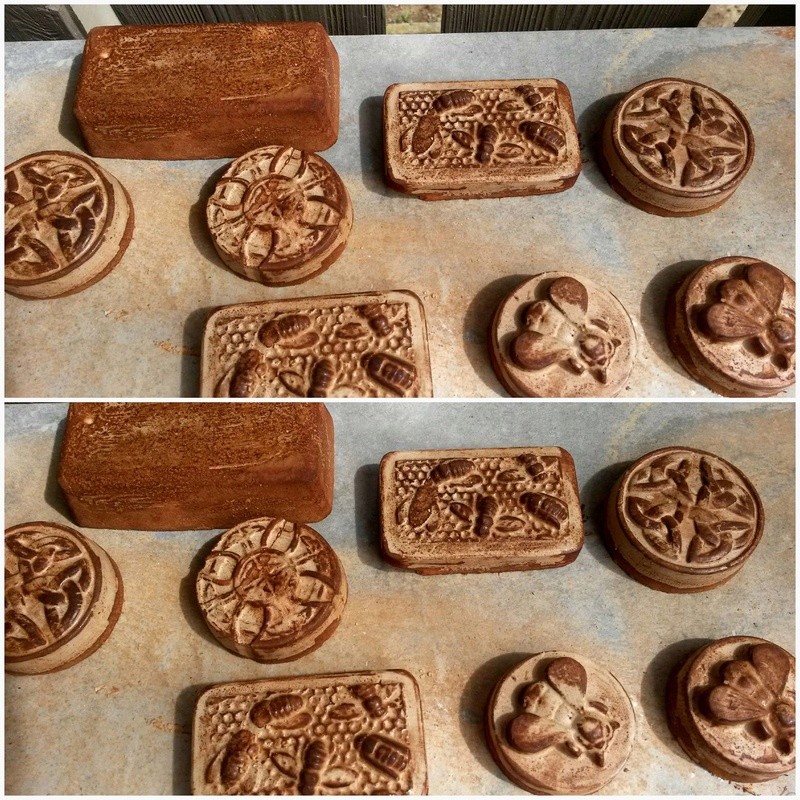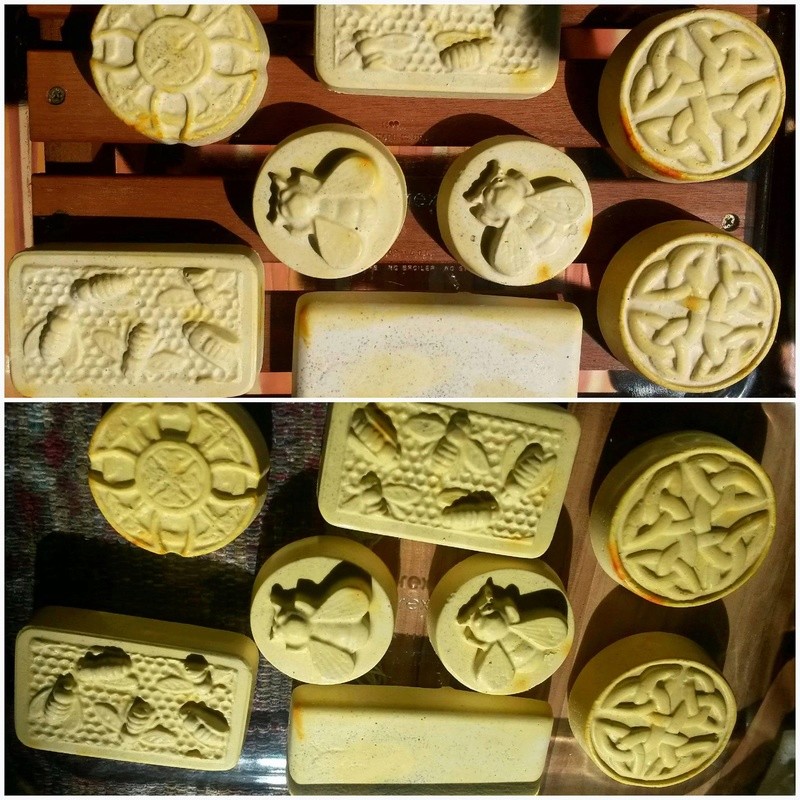 4You, Brandi Jasmine, Martina Kaldenhoven and 1 other
Comments

Martina Kaldenhoven They look beautiful!!!

1



Manage





LikeShow more reactions
 · Reply · 1h

Charles Reading Thank you. 
[size=0](:
Manage
Like
Show more reactions
 · 
Reply
 · 
1h
Write a reply...
Jenny MortellYou and 4 others manage the membership, moderators, settings, and posts for "Plasterite - nature's alternative to orgonite". They are gorgeous, I love the shapes and colours. And your very interesting report of the additions. I'm sure you and your wife can feel the energy? I agree, sometimes the sand seems to sink to the bottom of the mixing bowl. I often take one jugful out from the mixture then another one with the extra sand, and try to amalgamate the two as I pour.

1

Manage
Like
Show more reactions
 · 
Reply
 · 
1h
Charles Reading Ah, great idea! Will try that. TYVM. 
(:

 
Yes they have a potent energy and looking forward to creating more and hopefully building on that more. Lots of ideas coming to mind. 
(:

1

Manage
Like
Show more reactions
 · 
Reply
 · 
24m
Write a reply...
Jenny MortellYou and 4 others manage the membership, moderators, settings, and posts for "Plasterite - nature's alternative to orgonite". Charles Reading may I have permission please to share your pictures and comments to the seleniteplus forum (details above under 'description') ?

1

Manage
Like
Show more reactions
 · 
Reply
 · 
47m
Charles Reading Yes Jenny Mortell sounds great. 
(:
Manage
Like
Show more reactions
 · 
Reply
 · 
23m
Jenny MortellYou and 4 others manage the membership, moderators, settings, and posts for "Plasterite - nature's alternative to orgonite". Charles Reading Thank you and again congratulations on your beautiful creations. The beeswax and olive oil 'rub' sounds excellent - another simple solution is to paint them when they are well dried out or just leave them au naturel.
[/size]
A nice little post from Greg 
Greg Richardson
[size=12]Admin
 · 
April 14 at 5:47pm
[/size]
Sweet and petite......Plasterite.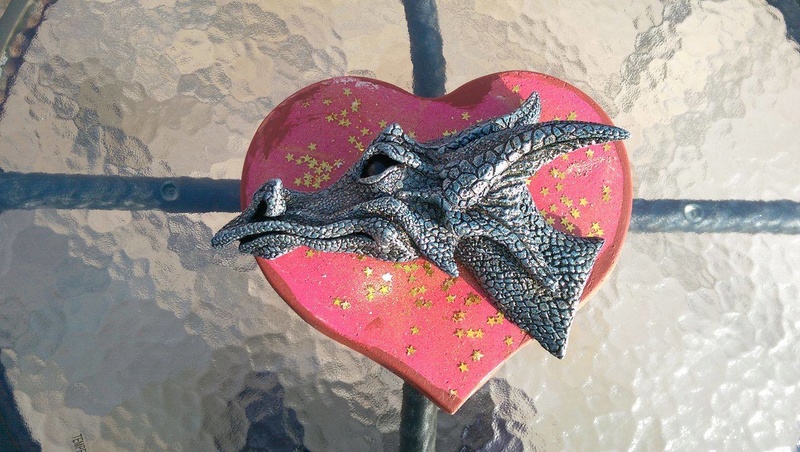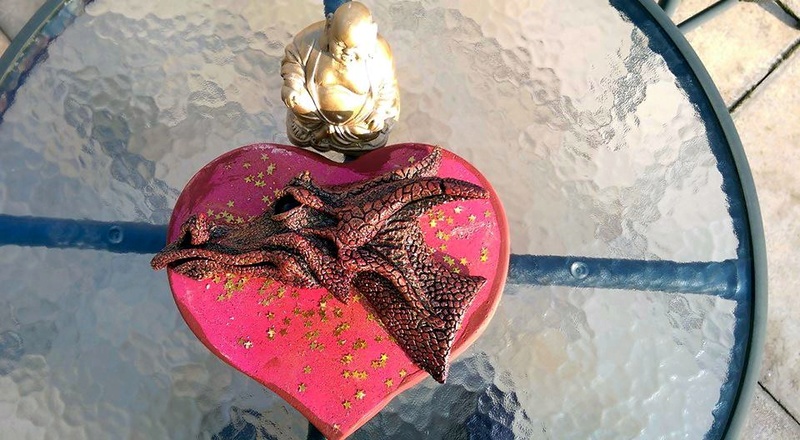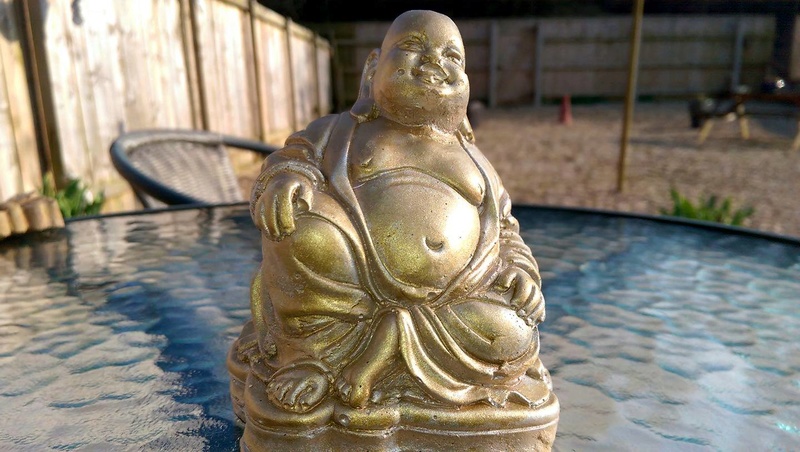 Aileen Kader shared her first post.
[size=12]New Member
 · 
April 14 at 11:06pm
Hello everybody. Thank you for having me in your group. It certainly is very informative!
This information may not be important for anyone other than someone who's worked with powdered gypsum. In trying to figure out how to make plasterite, I got really confused when the terms "casting plaster" or "plaster of Paris" were used interchangeably with "gypsum." Having worked with powdered gypsum, one of my greatest challenges was to find some way to keep it stabilized after the water evaporated. Gypsum does not naturally harden after it's been wet. It reverts back to powder.
(As a side note, I grew up near what we used to call Dry Lake [now called White Lake], which is in fact a huge gypsum deposit. Which also explains why it's so cheap. It's VERY plentiful and used as a soil amendment here in California, especially for heavy clay soils.)
Anyway, I finally figured out what my confusion was all about. Plaster of Paris and other casting plasters are made of CALCINATED gypsum, which is gypsum that's been heated to 1,400 to1,800 degrees Fahrenheit (800-1,000 degrees Celsius) or higher. That's below the temperature needed to turn crystal (sand) into glass, of which the ancient Egyptians also made a lot. So it's very conceivable that they used plasterite on the pyramids.
Hope this is useful.
[/size]
Jenny Mortell



Love

Show more reactions


Comment



6You, Greg Richardson, Suzanne Mahon and 3 others


Comments



Greg RichardsonGreg and 4 others manage the membership, moderators, settings, and posts for "Plasterite - nature's alternative to orgonite". Welcome Aileen, and yes, some of us ( old timers 
[size=0]

 ) know that the plaster we use is gypsum , a form of selenite which has been heated to make it workable and yes many say that the pyramids had a coating of this plaster when they were built, for what reason is open for debate. I hope you'll join us in creating plasterite and post your creations and findings here. Once again, welcome.
[/size]
June Cheney Carnahan
[size=12]Admin
 · 
April 16 at 12:55am
[/size]
[size=14]I had a fun (and profitable) day selling plasterite yesterday at a local Earth Day festival! I sent plasterite home to about thirty new families and educated a lot of people about the importance of protecting themselves from radiation produced by electronic devices (I specialize in making smaller pieces to place next to TVs, computers, to carry inside vehicles, in purses, etc). I also gifted a few dozen little pieces to all the kids who came to my booth. 
[size=0]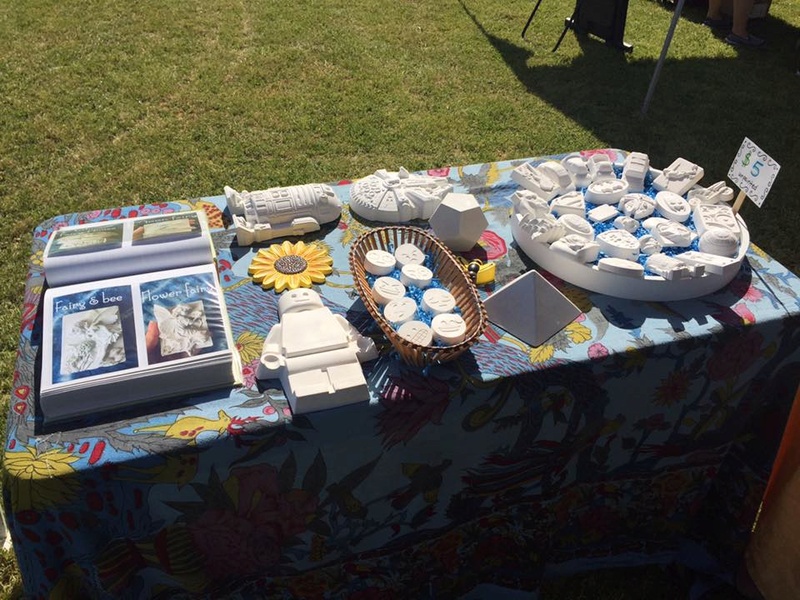 [size=12]
[size=13]
Murielle CelisMurielle and 4 others manage the membership, moderators, settings, and posts for "Plasterite - nature's alternative to orgonite".
 I'd say those emojis are a success with the kids 
[size=0]
Page 8 of 8 •

1, 2, 3, 4, 5, 6, 7, 8

---
Permissions in this forum:
You
cannot
reply to topics in this forum