on Mon Apr 16, 2018 8:24 pm
By Tony 
Thank you all, and please, understand, in all humility, I am a sponge of knowledge that I either inherited from Spirit, Family and Friends, and Earth Angels! Regarding the programming aspect, I must say with all due honesty, there is no such thing as "wrong". NO, this is about US using what we ARE, and that is CONSCIOUSNESS! We Live, we Breathe, we Love, we Share... Say anything in your heart or mind, when doing such thing as Creating this "script" or "wish list" that you are providing this spanking new baby Consciousness, and you are it's ONLY point of contact, so to speak, initially. Like a hypnotist, you might murmer, "listen ONLY to MY voice" and then proceed to share with it what you wish! Simple is better, using projected visual input along with spoken or even written.... wink emoticon This is our Love Manifest! As Conscious Creators, we direct our intentions into these magnificent castings we each create, and just believe and know they wish only to do exactly as we ask! That being said, remember, this is a GROUP physical exercise or experience, so we just can't go and pick up a rock, and say, I'm now in charge of everyone, always... Our Matrix would crash, quick, if that "glitch" became enabled.... too many variations, too quickly! Let us simply ride this baby out, and whilst doing such, let us ride the SH*T out of it! DO everything you wish, and see what happens, only envision the exact outcome you desire. And if it doesn't happen, or does, sort of, or not really but something wild, or nada, you at least have moved your Conscious energy into Creation mode, instead of contemplative mode. So we try, we fail, we live, and we try again, or not. But simply being Alive is worth every second, of "this"..... Let's play, let's create and CREATE, and let's keep dreaming of our new World! Free of anything that might harm or hurt, oppress or destroy, any form of life.... Any! smile emoticon AHO!
Tony Outstanding.... 
 Oh yeah!!!! Love the Zeolite!!!!!! Maybe some clay too, at least in my thinking for future castings... smile emoticon Awesome work, thank you for sharing, so inspirational!!! *bows* smile emoticon
Tony You know, Jacques and I use to quibble over Bovis readings, divined over using a pendulum when it came to Creations. I can tell you from what I scan and feel, that with your ingredients, and intentions, your Creations are amazing and strong! Jacques would get some ridiculously high number on a reading, for a Creation, and I would go and grab it, and just smile and look at him.... If it was "that" high, it would do some amazing, magical, unorthodox things to my "body" pretty quickly.... And that never happened. I love everything you are doing with this, and please don't focus on "power", when Love comes to play in form.... let them BE everything and anything, all perfect, all so awesome, with you Creating them and sharing them!!!! smile 
 So many Blessings and Gratitude!!!!
Stephen yes ,Tony.... I do miss Josh ... so many internet messages , experiments and trials... a good mate ....Plasterite Gmx....great demo and was really loving the bagpipes 
 ....cheering from Oz . !!!
Tony My beautiful and amazing friend, please know that yes, that is true, but also, there is..... so much more! FB is superficial and trite.... but then again, it is a clear path to the highest levels of social mechanism that is really "energy".... smile emoticon ...See More
Jenny Wonderful observation here Tony and thank you a million times for all your contributions over the last couple of days. You are creating such energies by them, we're all getting quite emotional heating about your early experiences, such a blessing you've done your mourning and are now back full steam ahead.
Tony THIS, is what Jacques, dreamed of.... THIS, is what You and I are here, for.... THIS, is our AWAKENING, and our TRUEST form, of Being, LOVE... Let's do this Shi(T)ft.... 
 Oh yeah.... smile emoticon
Jenny Whew, powerful comments Tony. Yes please God, and many others too, hoping we all get huge energy to keep going, spreading the information, because there's so much more support needed. I've been saying for months that I can feel tiny ripples spreading, now hopefully becoming waves.
on Tue Apr 17, 2018 6:04 pm
Thanks for the reprise of some old stuff, making me feel nostalgic.   I'm glad to say that against the odds the Affirmation Group is still trundling along, people still seem to enjoy it though there is never a big crowd 'on the dot' but people trickle in later on.  Obviously I can't be the Sergeant Major and try to bully them.   

Unlike the upcoming 'Annual Global March against Geo-Engineering and Chemtrails' this Saturday. Anyone Irish who comments on the anti-geo page I ask are you coming along? It's amazing the number of people who don't get to hear about it, in spite of Ciaran inundating everything with his ads.  There could be up to 20 Yay a huge crowd lol - or maybe not who knows.
on Tue Apr 17, 2018 6:27 pm
Well, Sergeant Mayor, I do hope so, at least ten show their
ugly
   gorgeous Irish faces there.. 


I know it is hard nowadays to find ten rebels but with some efforts and maybe throw in some free brownies or gin , they will come, they just follow their noses. All for a better world, well cant be much worse as it is I recon, but they , our betters, the lucky gene club, have given us their promise they can do better than this so this austerity agenda 21 , taxing to the hilt will get much worse hmmm
There you go
You know we have to get out of our cars, wont happen tomorrow but that is set in stone, masonic ashlar I assume, so yes
it is a " must be "
like all their manifesto. So it shall be.
As we drown further into the police state crap and Corporate communism free trade hoopla...
Fingers crossed
Confident you do well and get something out of it
at least a big red star behind your name on the secret service list 
to begin with...if you hadn´t already...
the weather here in this part of Europe is gorgeous, better than in Spain
summer time
all trees turn green overnight
things move fast
reloading battery
on Tue Apr 17, 2018 6:56 pm
on Wed Apr 18, 2018 5:15 pm
on Wed Apr 18, 2018 8:55 pm
Thanks Sunflower for sharing these great videos.  I'd still love to see some of them on Youtube for sharing to a wider audience.    
This is a little welcome I extended to a number of new members who joined the Plasterite page in the last week or so:
[ltr]I'm very happy to welcome a number of new member here, the mods are glad you found this lively page for everything to do with Plasterite. I hope you read the Files Section and scroll down through to see what people have been doing. The main hope is that your appetite is whetted to make some Plasterite yourselves, you'll be pleasantly surprised how simple and satisfying it is. And also not hard on the pocket.[/ltr]
[ltr]May I also recommend that you check out the two websites mentioned under 'description' - there is a wealth of information there to browse through. One important factor is that there is so much information collected there from the 'old days' though not so very old, as Plasterite really only started in about 2009 or 2010. Some of the 'old boys' are happily still with us, i.e. Stephen Geddes and Tony Geron. Sadly Jacques Suarez aka Josh passed away several years ago but his contributions are thankfully saved in those sites. [/ltr]
[ltr]There are always people around to help you with any questions or problems you may have, and are thrilled to see reports and photos of your first efforts and creations as you get more experienced. [/ltr]
on Wed Apr 18, 2018 11:38 pm
And more activity, though small.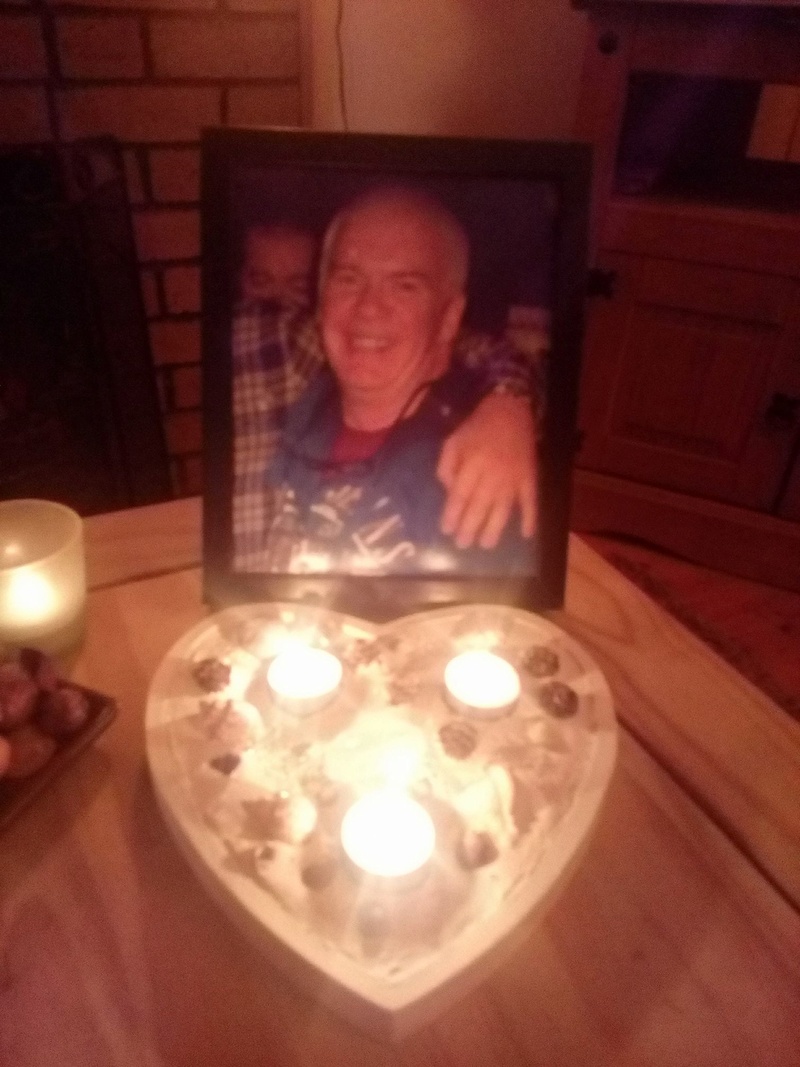 Ashling Lowe

Yesterday near Trim · 

 



Thank you Jenny Mortell I sent u that this morning love the plasterite candle holder and all the peices you incorporated in to it



Like

Show more reactions


Comment



20Janette Revitup Laffan and 19 others


Comments




Gillian Bradley That's lovely ash x

1



Manage





LikeShow more reactions
 · Reply · 1d


Jenny Mortell Thanks Ashling. It looks lovely.

1



Manage





LikeShow more reactions
 · Reply · 1d


Vikki Behan Beautiful x

1



Manage





LikeShow more reactions
 · Reply · 1d


Josie Cole That's really beautiful Ash, a lovely photo of your dad.

1



Manage





LikeShow more reactions
 · Reply · 1d


Mary Lowe Beautiful !

1



Manage





LikeShow more reactions
 · Reply · 1d

Lorraine Margaret Green That's really lovely it's very comforting to have that with you

Permissions in this forum:
You
cannot
reply to topics in this forum