Page 4 of 5 •

1, 2, 3, 4, 5


http://www.organiclifestylemagazine.com/vaccines-retroviruses-dna-and-the-discovery-that-destroyed-judy-mikovits-career
Who's Allergic To Thimerosal? Please Raise Your Hand
By TLB Contributing Writer: Lori
Almost a year ago I started working in a chemical plant in shipping.  I see a lot of labels come through my area.  Some of the products are low toxicity and some are very toxic.  Products that are very toxic require special packaging when it comes to shipping.  They have to be inside a plastic bag with an absorbent pad inside the bag.  Padding is placed around the products in the box and stickers are placed  are on the box as to the toxicity of the products in the box.
Products that contain mercury have a Skull and Bones diamond on them.  The label looks very similar to this label.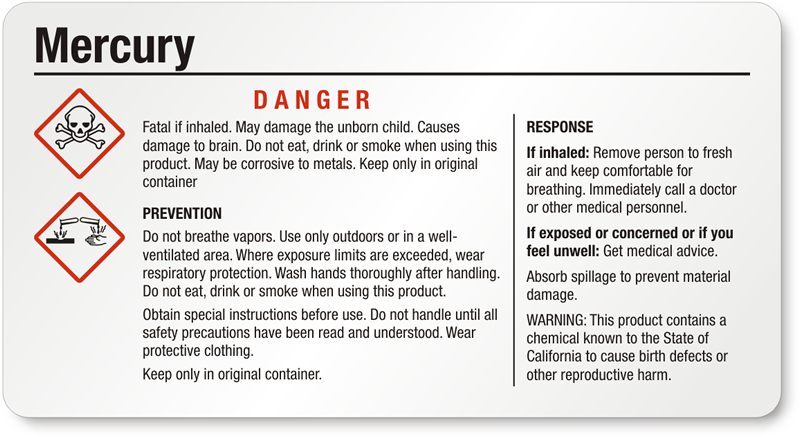 As I've explained in blog entries before, 

Thimerosal is 50% mercury

. It's been touted by the CDC, FDA and the WHO as a safe ingredient in vaccines. However, is this true? What does the science say?
Let's take a look at the toxicity of Thimerosal.
The LD 50 means 

LD50 is an abbreviation for "Lethal Dose 50%." The LD50 value for a chemical is the amount of chemical that can be expected to cause death in half (50%) of a group of a particular animal species when the chemical enters the body by ingestion or skin absorption. The amount required to cause death is normally related to body weight: therefore, the LD50 is expressed in milligrams of chemicals per kilogram of body weight (mg/kg). A typical LD50 statement includes the substance, the route of entry, and the animal species; as shown below:
Toxicological Data on Ingredients: Thimerosal: ORAL (LD50): Acute: 75 mg/kg [Rat]. 91 mg/kg [Mouse].
II. Hazard Identification: Classification of The Substance Or Mixture According to Regulation (EC) No 1272/2008 [EU-GHS/CLP]: 
Acute toxicity, Inhalation (Category 2)
Acute toxicity, Dermal (Category 1) 
Acute toxicity, Oral (Category 2) 
Acute aquatic toxicity (Category 1)
Chronic aquatic toxicity (Category 1)
On a 

table

, where does this toxicity lie?
[th]Table 1: Toxicity Classes: Hodge and Sterner Scale[/th]
[th]Routes of Administration[/th]
Oral LD50
Inhalation LC50
Dermal LD50
Toxicity Rating
Commonly Used Term
(single dose to rats) mg/kg
(exposure of rats for 4 hours) ppm
(single application to skin of rabbits) mg/kg
Probable Lethal Dose for Man
1
Extremely Toxic
1 or less
10 or less
5 or less
1 grain (a taste, a drop)
2
Highly Toxic
1-50
10-100
5-43
4 ml (1 tsp)
3
Moderately Toxic
50-500
100-1000
44-340
30 ml (1 fl. oz.)
4
Slightly Toxic
500-5000
1000-10,000
350-2810
600 ml (1 pint)
5
Practically Non-toxic
5000-15,000
10,000-100,000
2820-22,590
1 litre (or 1 quart)
6
Relatively Harmless
15,000 or more
100,000
22,600 or more
1 litre (or 1 quart)
Even a bottle of Thimerosal has the Skull and Bones symbol on it along with the word toxic.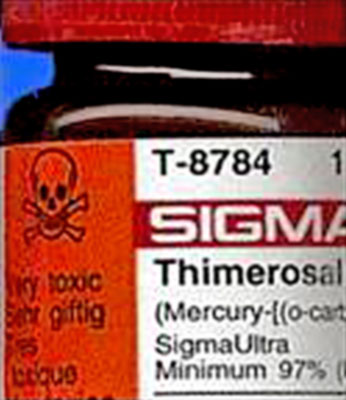 It should be noted that no LD50 data exists for humans.
 The lower the LD50 value, the more toxic the substance. In general, chemicals with LD50 values less than 300mg/kg are considered highly toxic, those with LD50 values between 300 and 1,000 mg/kg are considered moderately toxic, and those with LD50 values between 1,000 and 5,000 mg/kg are considered slightly toxic. Because LD50 values depend on body weight, however, many chemicals that may not harm an adult may be toxic to a small child.
As you can see on the table, Thimerosal is very toxic.  According to the MSDS sheet, long term exposure can lead to health issues:
DEVELOPMENTAL TOXICITY: Not available. The substance may be toxic to kidneys, liver, spleen, bone marrow, central nervous system (CNS). Repeated or prolonged exposure to the substance can produce target organs damage. Repeated exposure to a highly toxic material may produce general deterioration of health by an accumulation in one or many human organs.
A few months ago, my work place had a flu shot clinic. It was totally voluntary. The form that was sent via email said that if you are allergic to Thimerosal you shouldn't get the shot. 

Who isn't allergic to mercury?

 When I received the email from HR that this was going to take place I replied back with the toxicity of the flu shot along with the MSDS sheet for Thimerosal. The guy heading it up replied back that he wanted me in his office at 8 am the next morning. I sent him the email at about 1 am (I work 2nd shift).  I did talk to him when I came in and got blown off on the mercury content of the flu shot.
I said that products in our plant that contain mercury have a skull & bones on them. Why are you allowing employees to be injected with mercury? 
His response … That is your opinion.
 Seriously? I've been researching the dangers of vaccines for almost 30 years & that is my opinion?
A few weeks ago we had a safety meeting. We were told if we see something, say something.  So, I had the MSDS sheet for thimerosal brought up on my phone and went to talk to the head of the safety after the meeting. Again, I brought up the mercury content of the flu shot. Again, I was poo poo'ed off. One of the HR people told me to come see her in her office to talk about this.
After our lunch break that night, I was standing with the rest of my co workers waiting to do our stretching before getting back to work. 
The second shift lead came to me and told me that I was wanted in the HR office. My response – Here we go. 
His response was it's not bad.
I went into the office fully prepared
 to be fired or at least a reprimand of some sort. 
In her hands was an article from 
this blog.
 You have to be invited to see her blog, I haven't been invited to see it but you can see the first 7 myths that she attacks in 
this article.
I asked her about the content of mercury in the products of the plant and how they are treated as highly toxic. 
 She said they aren't the same thing.  As you saw above, Thimerosal is toxic.
She went onto to tell me about some workers work with cadmium in the plant and they are periodically tested to make sure levels are within certain levels. 
She then looked me in the eye and said
"We would never do anything to endanger our associates."
I knew at that point anything I had to say was going to fall on deaf ears. 
I didn't want to risk my job by setting her straight in person. 
It was total frustration to deal with someone who seemed so open minded … but so closed to reality at same time.
Until next time …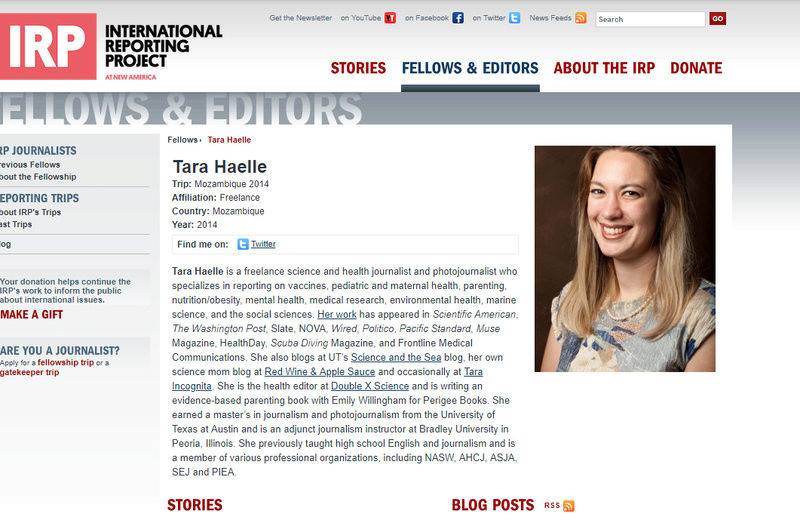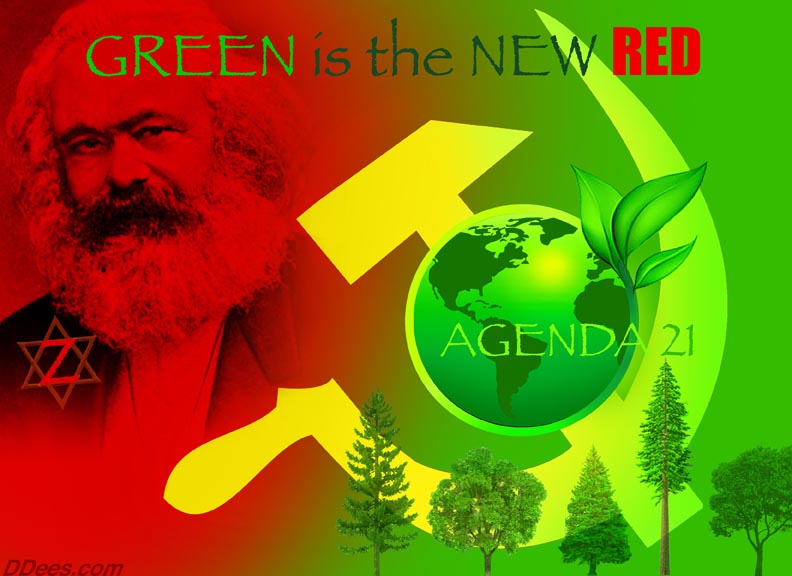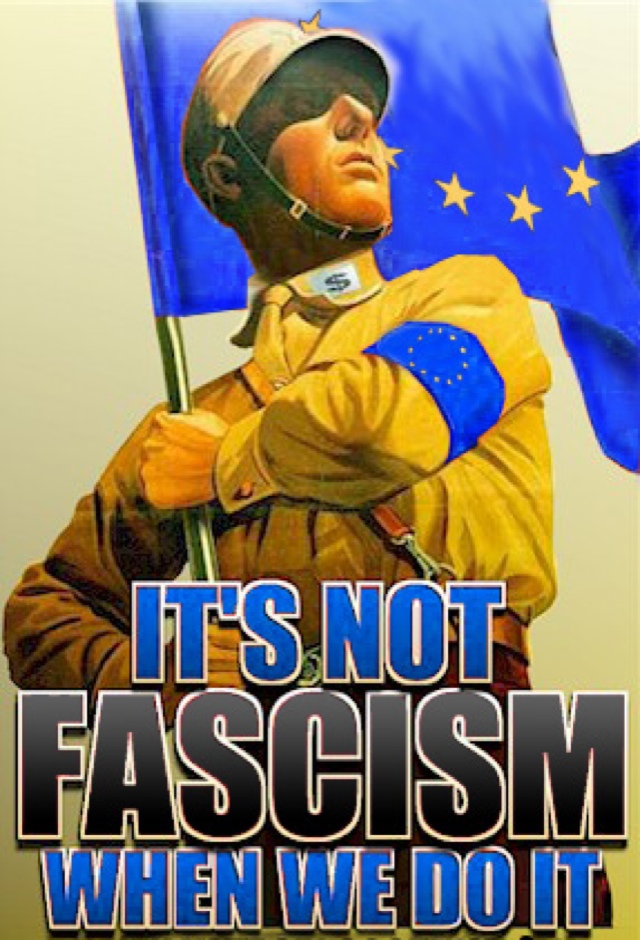 Oh yes it is all corrupt to the core and the mediawhores , it is galore out there, galore
it is all over the place now, mediawhores getting paid just to put out that fascist propaganda shite
endless repetition of shit, Uber shite and Astonishing shite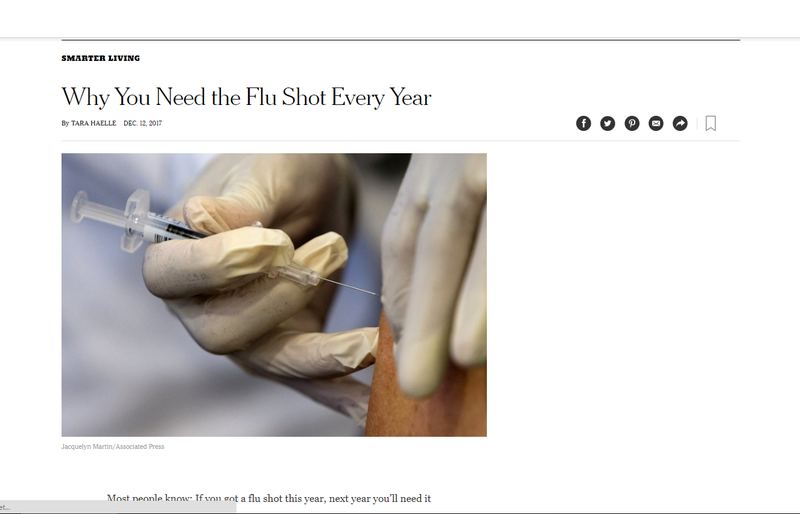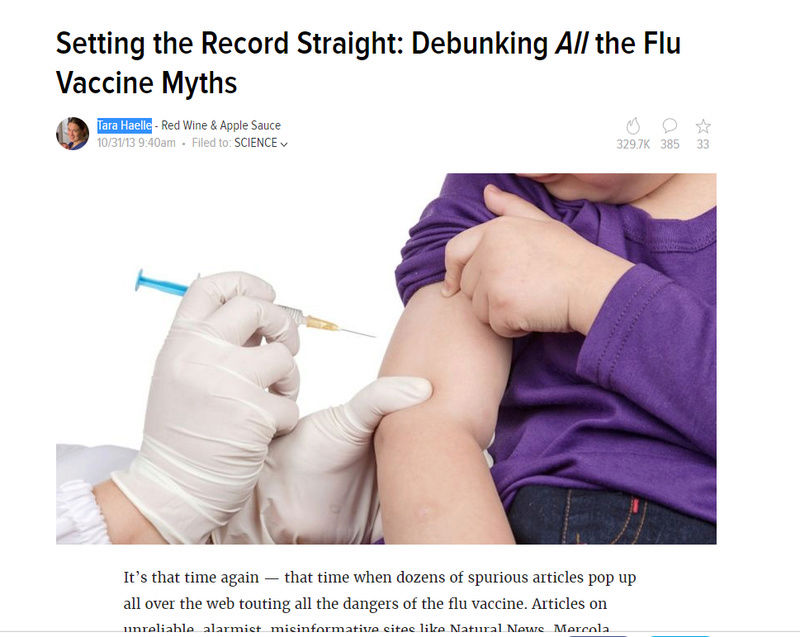 bla bla bla
propaganda, all bollox but you obviously knew that right from the start
You see, children , these type, you know, are the ones who force and brainwash the cattle into the NWO hmm hmm
and if you dont go along as a good little happy sheep oh boy her psychopathic site rolls out
helmet on folks 
getting pretty nasty here
heheheh
Science journalist Tara Haelle throws a tantrum

After more than a decade blogging about natural childbirth, breastfeeding and anti-vaccine advocacy, I've become pretty inured to the vitriol directed my way.
I understand threatening the livelihoods of the birth industry and the breastfeeding industry isn't going to win friends, and I appreciate that cognitive dissonance is hard for women who have staked their self-esteem on imagining that their adherence to the ideology of natural parenting marks them as superior mothers. I'm not blogging to make friends; I'm blogging to reassure women that mothering is about much more than the function of a woman's reproductive organs.

Had I wanted to publicly make a fool of her, I couldn't have done a better job than she just did herself.
[size]
Every now and then, though, I am surprised by the vociferous response of a critic. That's the case with Tara Haelle's tantrum.
This is what Haelle posted on a Facebook page in response to my recent piece about MANA's acknowledgement of their 
hideous death rates
:
[/size]
Oooh boy. Tuteur is not a credible source. She is a nasty woman whose tone actually DOES represent some aspect of her beliefs, even if it's not as overstated as the tone comes across. Yes, she had a LOT of editing to get rid of the tone in her book, as she did in a NYT editorial. She's a hateful, nasty woman with one of the worst cases of confirmation bias I've ever seen.
In short, she *is* against all home birth in the U.S., period. She looks askance at home birth in other countries, though she'll deny that. She exploits women's stories without permission and has illegally run an online medical advice service. The circumstances concerning her not having a license to practice anymore are uncertain and not necessarily nefarious, but she hasn't had a license to practice in over 15 years and hasn't practiced at all in over 25. She likely practiced for under 5 years and definitely under 10, and her belief in the evidence stalled when her practice did. She intentionally misreads certain studies and refuses to accept new data that comes out.
She believes that all doulas are suspect and that doula care does nothing to improve outcomes among women. She trusts very few midwives, regardless of where they work. She also believes that the C section rate is not too high (despite ALL evidence and expertise to contrary). She has personally attacked me and MANY MANY others, including my coauthor (in a particularly vicious way where she went after my coauthor's kid) and Dr. Neel Shah, a Harvard OBGYN who teaches there and has been working assiduously to reduce C section rates safely.
Tuteur offers pretty much NOTHING to the discussion of home birth or birthing in general, she's a nasty woman whose death I will not grieve, I have zero respect for her, and I have reduced respect for anyone who spreads her work after they learn who she really is and what she really does. And all of that is me with restraint."
"And I'm almost certain all of that will get back to her because she has plenty of minions and flying monkey spies who look specifically for this kind of thing from me and others so they can screenshot it and send it to her, and I know this post is public. So this will be one more thing she gets to bitch about with me to her audience of sycophants. I don't waste any more oxygen on her, which is why she's blocked on all social media channels, as are several of her minions.
[size]
What precipitated this outburst of immaturity? As far as I can tell, it's because I have publicly disagreed with Haelle on several issues and Haelle simply cannot abide that. She has a problem, and it's one that afflicts all too many health journalists: she doesn't have enough science knowledge to argue with me, so she's reduced to 
ad hominem
 attacks.
Haelle is hardly alone in practicing health journalism by calling upon experts to interpret the scientific research for her. Most of the time that works quite well since often the science is settled. It doesn't work at all for the subjects of childbirth and breastfeeding because there is a wide gulf between the science and the "conventional wisdom" espoused by the birth and breastfeeding industries.
Haelle offers the conventional wisdom in her writing and in the area of vaccines, for example, that is good enough. It's basically useless, however, in addressing what I write about since the thrust of my writing is a paradigm shift: childbirth and breastfeeding, far from being perfect because they are natural, are inherently flawed precisely because they are natural.
Childbirth is inherently dangerous and any philosophical argument or public health campaign that doesn't take that into account is likely to be deadly. Breastfeeding has a significant failure rate and any philosophical argument or public health campaign that doesn't take that into account is likely to be deadly.
I also offer a philosophical argument of my own: most of what passes for natural childbirth and breastfeeding advocacy is deeply retrograde and fundamentally sexist. It's a not so subtle way of reducing women to their reproductive organs and relegating them back to the home. It's not a coincidence that natural parenting always represents more work for mothers.
Haelle is miffed because I have publicly disagreed with her and rebutted some of her empirical claims. She's frustrated because she doesn't know enough science to argue with me and is reduced to name dropping (e.g. Neel Shah who is apparently still smarting because he wrote an opinion piece about homebirth in the 
New England Journal of Medicine
 and I pointed out that he had no idea that there were two different types of midwives in the US).
It's ironic that Haelle produced this wall of text in response to my piece about the latest MANA data. It makes her criticism look particularly foolish because it lacks substance of any kind. Haelle doesn't bother to address the data in the my piece. I doubt she even read the piece before she commented.
In the few public arguments I've had with her, she hasn't rebutted a single statistic that I've presented. Generally, she has stalked off when I rebutted her claims with empirical evidence.
She thoroughly misrepresents my positions such as my views on the C-section rate. I have repeatedly stated that the C-section rate is almost certainly too high, with the important caveat that while we know that many C-sections are unnecessary, we don't know which 
specific
 C-sections are unnecessary 
in advance
.
She wouldn't grieve my death? That's the statement of a petulant child, not an adult, and certainly not an adult who claims to be practicing journalism.
Grow up, Tara. Stop obsessing about your feelings and start addressing facts. If you can't stand when it is pointed out that you are wrong, do more research and make sure you're right. And thanks — had I wanted to publicly make a fool of you, I couldn't have done a better job than you just did yourself.[/size]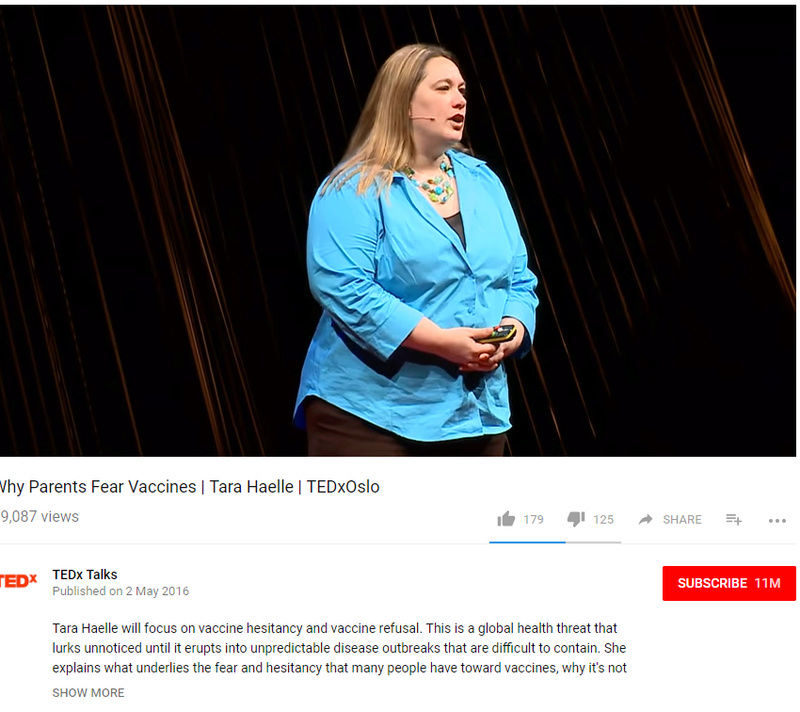 Well folks that fat masonic bitch would look great as your new Camp commander in your future fema camp eh 
imagine that children
can almost smell it already
oh the joy....
"I was so worried when Robert De Niro stood up, so worried that this would do exactly what the filmmakers wanted," he says: drumming up anti-vaccine sentiment.
But the media didn't fall for it. Take ABC World News for example. The day De Niro pulled the film from the lineup, the show aired a two-minute news segment reporting on the controversy. Vaxxed's producer, Del Bigtree, appears just long enough to deliver a quick sound bite.
"The film is just the truth as we have found it," he says. A youtube videoshows the full interview that generated Bigtree's quote. The title promises to reveal what "Big Pharma didn't want you to see," but what it actually shows is responsible journalism. After a first softball question, reporter Eva Pilgrim asks Bigtree why he decided to partner with a known fraud. Then she calls Bigtree out on the movie's gratuitous fear mongering. The producer spouts predictable excuses: Wakefield is the real victim here, it's not the movie that's scary but the facts that are scary, and so on.
The segment ABC aired includes his comparatively benign quote, and puts it in context. Right before it, Wakefield's infamous paper scrolls up the screen with "RETRACTED" in red capital letters. Right after it, ABC's chief health and medical editor Richard Besser appears on camera to state definitively: "Study after study [has] been done, and [has] shown vaccines do not cause autism."
The movie's own website can't link a single mainstream outlet that gave it a good review. The closest is a mildly positive review from SFgate that calls it "compelling viewing" while refusing to assess whether its claims are actually true. The review repeats lurid details before disclaiming them with sentences like "Viewers will determine for themselves how persuasive they find these anecdotal accounts." The movie, of course, gives them no accurate context to do so, so the review's neutral viewpoint is unfair to readers. But, happily, reviews like SFgate's were a minority of the overall media coverage.
"If you look at the way this story was handled by the media, it's very different than I think the way it would have been handled 15 years ago," says Offit. "I mean every major newspaper that carried this story–Wall Street Journal, New York Times, Washington Post, LA Times–all basically carried this as a scientist who's been defamed, a hypothesis that's been disproven."
Where the Myths Come From
The start of the anti-vaccine movement is hard to pinpoint, because there have been objections to immunizations for as long as the concept has existed. In the seventeenth century, Americans and Europeans learned about an Asian technique for conferring immunity to smallpox, and Edward Jenner popularized a similar method involving cowpox (the original "vaccine," from the Latin for cow).
That sparked an anti-smallpox vaccine movement, which coalesced into organized anti-vaccination leagues as vaccines became mandatory. British citizens protested they should have the right to refuse vaccination since it carried personal risk, and the result was the first vaccine exemptions.
Most public health historians trace the current wave of anti-vaccine sentiment back to a 1982 television special called DPT: Vaccine Roulette. The diphtheria-pertussis-tetanus vaccine at the time contained killed, whole cell pertussis bacteria (in addition to diphtheria and tetanus toxoids), and in some children this caused disturbing side effects, like febrile seizures. It did not cause permanent brain damage, but the television special claimed it did.
Seth Mnookin gives a brief history of Vaccine Roulette's influence here(and in his book The Panic Virus). After the program aired, the station put concerned parents in touch with each other, and the modern anti-vaccine movement was born.
"Everything [reporter Lea Thompson] said was wrong, but there was no retraction," says James Cherry, a pediatric infectious diseases specialist at the David Geffen School of Medicine at UCLA. Shortly after the special aired he appeared on the the MacNeil/Lehrer Report to discuss the DPT vaccine, and was surprised to find Lehrer sympathetic to the vaccine critics.
By contrast, when measles broke out at Disneyland in 2014, he says, "[the media and] the LA Times in particular did a superb job…just did literally everything right."
The Mechanics of Propaganda
But careful reporting can't change the fact that documentary-style programs can be persuasive and attractive to viewers, even when they aren't backed by rigorous evidence. Everything from the movie poster to the way expert interviews are shown on screen gives us subtle cues that match our idea of what a fact-based story looks like, notes documentary film theorist and critic Bill Nichols.
In this way, says Nichols, filmmakers can build a compelling story on a foundation of fake information. After all, we humans love a good story. Stories work better than data, in many cases, to change a person's mind. We also interpret the real world in terms of stories.
People's attitudes toward H1N1 vaccination, for example, fit into larger narratives about, say, whether we trust governments and health authorities. "Good rhetoric typically draws on things that people already have in their mind as part of the way the world is," says Nichols.
And we are, perhaps, drawn to ideas that help us interpret events as part of a clear, meaningful story.
"In these difficult things that have gray to them, like what causes autism–the presence of a magic bullet, the answer to it, the thing that makes it black and white, I think has an innate appeal," says documentary critic Bill Nichols.
This is the story Wakefield spins so well. He "knows" why autism is skyrocketing, not better diagnosis–the present consensus as painstakingly recounted in Steve Silberman's history of autism NeuroTribes–but, in Wakefield's telling, vaccines.
Wakefield can give parents of autistic children, most recently Robert DeNiro, a deceptively clear reason why they should distrust the vaccines they may already have been feeling uneasy about; and he does it with archetypes like the scrappy underdog and the altruistic whistleblower who just wants to help your children.
Wakefield has, then, written at least two major works of fiction disguised as fact: his retracted Lancet paper, and now the pseudo-documentary Vaxxed. And in doing so, he is playing out a real world narrative that gives his followers a way to process inconvenient realities.
When reporters call Wakefield a fraud, he tells them that CDC scientists are the real frauds. When Houston's mayor won't give city funding to show anti-vaccine propaganda, they call the decision censorship and fume that it was "about money."
The Fears Are Real, Even If the Facts Aren't
"We fear things we don't understand, and which our brains have trained us to fear, through a series of cognitive biases we're all subject to," says journalist Tara Haelle, co-author of The Informed Parent.
Her research-based Myths About Anti-Vaxxers series is an excellent reality check for anyone who thinks people who fear vaccines are simply denying science.
Take availability bias, she says. Most of us haven't seen children suffer from measles. But if you poke around Facebook long enough, you'll see stories from parents who say their child was injured by a vaccine. "Regardless of whether it's true or not, that story is going to stick in your head," says Haelle.
Once a person starts to believe the stories, confirmation bias takes over, and they'll remember facts that seem to support what they already believe, while ignoring information that doesn't fit. These biases shape everyone's actions, not just anti-vaxxers. For example, doctors need to be aware of them when making diagnoses. These ways of making sense of our world don't have to be logical; they bypass logic. That's why simply correcting misinformation often doesn't change opinions, especially if a person has bought into a whole narrative like Wakefield's. But people who fear vaccines aren't all hopeless cases.
"I don't think most parents are conspiracy theorists," says Offit. "Most parents get their children vaccinated." (MMR coverage in kindergarteners is 94 percent.) He finds that hesitant parents are "generally reassurable."
Last edited by OrgonitePlus on Mon Feb 26, 2018 3:05 pm; edited 1 time in total
Excuse me, you dumbed down little facebook child, forgive me, I went too fast, way too fast for you , so sorry, terrible sorryhold on childI have to spoonfed it into you or your peasized gmo soy brain cannot grasp the concept, please hold ...please hold...
The Fears Are Real, Even If the Facts Aren't
"We fear things we don't understand, and which our brains have trained us to fear, through a series of cognitive biases we're all subject to," says journalist Tara Haelle, co-author of The Informed Parent.
Her research-based Myths About Anti-Vaxxers series is an excellent reality check for anyone who thinks people who fear vaccines are simply denying science.
Take availability bias, she says. Most of us haven't seen children suffer from measles. But if you poke around Facebook long enough, you'll see stories from parents who say their child was injured by a vaccine. "Regardless of whether it's true or not, that story is going to stick in your head," says Haelle.
oh you, you dumb child, have to spell it out for you
here it comes
"Regardless of whether it's true or not, that story is going to stick in your head," says Haelle.
Hope, truly hope, you get it now
it means it does not matter if " science" or the farce of it is right or wrong
what matters is if the control grid says it is good for you than it is good for you
your real science does not matter, hope you get at least that part out of it, truly hope you do, child.
so the next time Haelle, nice funny name , you know, Hella..Hell...hint hint
talks about how much is two plus two and she sticks up three fingers you better know what you are gonna say , child, you better be careful there Winston...
Last edited by OrgonitePlus on Mon Feb 26, 2018 3:34 pm; edited 1 time in total
Since vaccine refusers tend to cluster together, "that provides the tinder to start outbreaks," says Saad Omer of the Emory Vaccine Center. His recent paper on measles transmission, including the Disneyland epidemic, shows that unvaccinated people are overrepresented in the beginning weeks of an outbreak. Eventually the epidemic infects some of the people who had their shots (since no vaccine is 100% effective), but it gets to that point with a boost from people who turned down the vaccines.On the bright side, changing parents' minds isn't the only way to get them to vaccinate. Omer's studies of vaccine exemption laws find that more children get vaccinated in places where exemptions are harder to get. Instead of granting exemptions to anyone who prints and signs a form, states could require non-vaccinating parents to visit a doctor for a signature.
and than they giggle and cuddle, making it a bit harder for the sheeple , those few who still have a brain, NOT too many mind you
to avoid their crappy shots
it is ALL propaganda and make belief, all deception, period
and just like global warming and the rest of the weapons of mass deception it is just a house of cards
Those nasty parents daring to think , even at this stage, two and two equals four, how DARE they , naughty naughty
yes..yes...
two and two equals three you know, or maybe five, whenever Soros thinks so 
so you better watch out kiddie
hehehehe
what a farce
now pay your carbon tax
and eat your soy burger
and post some chemtrail pics but not doing something about it 
children
Page 4 of 5 •

1, 2, 3, 4, 5


---
Permissions in this forum:
You
cannot
reply to topics in this forum