Page 1 of 8 • 1, 2, 3, 4, 5, 6, 7, 8


2017 JAN 17 -THE ORIGINS OF SHAMANISM
Posted at 08:30h in Shamanism by Dr. Alberto Villoldo
I am
 often asked about the origins of shamanism – when did it originate, where did it start, and who were the first shamans.
We know that shamanism is a prehistoric tradition dating back to hunter/gatherer (Paleolithic) cultures. Cave art 30,000-years-old shows evidence of shamanic practices, while rattles and other objects used in shamanic rituals have been found in material remains from the Iron Age. The word "shamanism" derives from the Manchu-Tungus (Northern Asia) word šaman, meaning one who knows.
Shamanism has been termed "humanity's oldest and universal expression of religiosity," and its cross-cultural presence among hunter/gatherer societies suggest a connection to the evolution of the brain. In fact, we can safely state that all modern world religions have their origins in long-forgotten shamanic practices.
Scholars have documented shamanism throughout Asia, Tibet, Oceania, Hungary, Sweden, North and South America, central Europe and Africa. Shamanic practices have varied extensively around the globe, but the role of the shaman as a healer and spiritual guide is widely shared. They were the first healers, teachers, and scholars.
The Andean shamans of Peru, with whom I trained for several decades, trace their spiritual origins back to the early peoples that settled at the foothills of the Himalayas nearly 50,000 years ago. Migrants from the Indus Valley in the northwestern regions of South Asia, (modern-day Pakistan) were among the first medicine men and women to cross the Bering Strait from Siberia after the last glacial period, and were known as the Laika – the Earthkeepers of old.
These shamans had direct experience of the energetic nature of reality. They understood that the material world is an expression of a subtler energetic realm that we interact with at all times. They learned how to dream their world into being within this realm, so they could participate in the creation and stewardship of the world, what we call reality. They revered all manifestations of nature.
Today, there are few traditional shamans left. With the encroachment of civilization, the younger generation is more interested in exploring the exciting new options available to them. But spirit works in mysterious ways, and as traditional shamanic cultures dwindle, increasing numbers of world-weary refugees of modern society are finding a path to modern shamanism.
We are the new shamans – the new caretakers of the earth, dreaming a more peaceful world into being. Even if we are not shaking feathers and rattles, or reading the oracle of the bones, we are shamans nonetheless, engaging with the luminous nature of reality, helping to heal the sick, learning how to prevent illness, and assisting the dying in their journey back to the world of Spirit.
We are helping to birth a world of the possible, in which the rivers are clean, the air is breathable again, and where we are able to assist people who are suffering. We help our fellow humans understand that there is a way of living in stewardship and connection with nature; that when we step into that path which is the medicine way, we live in harmony and health.
The Shaman…
Is a person of knowledge and power.
Uses power and knowledge in service.
Knows that love is the organizing principle of the universe.
Knows that creation is not complete – we help dream the world into being.
Is one who has not left the Garden, is not separate from nature.
Knows everything is infused with spirit, with life.
Sees the organizing principle of the universe, the archetypes.
Is in service for the good of all beings and the Earth.
Has a high sense of ethics – works through intent.
Knows and faces the shadow, both personal and collective.
Holds and creates sacred space.
Even with intent, does not fix the outcome – no attachment to result.
Knows that power can heal and also destroy, and uses it wisely.
Knows to work at source – the energetic.
Knows
 that everything is light bound into matter.
Knows that being present with intent can shift the world.
Lives in synchronicity.
Lives with impeccability.
Knows that if you don't learn it you marry it (wedded to it) or it comes to you as fate.
Knows that thought directs energy – energy directs matter.
Knows that will is control and that intent is surrender.
Understands the universe to be benign – not predatory.
The universe conspires on your behalf.
Knows that "Reality are those myths that we can't quite see through yet".
Looks for confirmation in nature and synchronistic events (signs, omens).
Knows that when you call spirit, spirit answers and that when spirit calls, you must answer.
Shamanism – Characteristics
First of all, what exactly is a shaman? A shaman is a religious leader who usually functions in an animistic culture to contact the spirit world in order to be empowered by it. He is expected to protect the tribe, cure illness, predict the future (divination), and offer practical advice. Initially, certain occult rituals are prescribed for the shaman initiate, which culminate in spirit possession and the resulting empowerment for whatever tasks may be at hand.
Throughout the world, shamanistic practices and experiences are highly uniform. In North and South America, Australia, Africa, and Asia, the shaman functions in a similar fashion, using the same techniques, achieving the same results. Anthropologists have long recognized this "remarkable" worldwide consistency of shamanism.
Michael Harner received his Ph.D. in anthropology from the University of California, Berkeley and has been a visiting professor at Columbia, Berkeley, and Yale. He is described as "an authentic white shaman" and teaches anthropology courses in the graduate faculty of the New School for Social Research in New York. Founder of the Center for Shamanistic Studies and currently chairman of the anthropology section of the prestigious New York Academy of Sciences, Harner observes,
One of the remarkable things about shamanic assumptions and methods is that they are very similar in widely separated and remote parts of the planet…. [O]ne anthropologist notes: "Wherever shamanism is still encountered today, whether in Asia, Australia, Africa, or North and South America, the shaman functions fundamentally in much the same way and with similar techniques….[1]
Following are some common characteristics or features of shamanism.


The shaman works in darkness.


The shaman must enter a trance state in order to "control" the spirit world and function effectively. The shaman employs specific methods for entering this trance state, or altered state of consciousness, which is necessary to contact the spirits. Two of the more common methods are ritual dancing with drum music or ingesting hallucinogenic drugs, although visualization, self-hypnosis, dream work, and other methods will also suffice.[2]


The shaman employs "spirit flight" or out-of-the-body travels, into the spirit world, the "upper," "lower," and other occult realms. He enters these worlds as part of his initiation and regular occult work.


The shaman is equally proficient in the practice of "good" or evil, e.g., "healing" or cursing work ("white" or black magic[3]).


The power the shaman claims to use is either that given by the spirits them­selves, or a force conceptually differentiated from the spirits but which is indis­tinguishable from them. And either may be said to be spiritistic manipulations of energy. Notable similarities exist between the power the shaman uses and that of many New Age energy concepts, such as chi, mana, kundalini, kupuri[4], and prana.


Mana represents a supernatural impersonal power, also present in today's so-called primitive religions; the Manitou of the Algonquins, wakonda of the Sioux, orenda of the Iroquois—which could be appealed to for good or ill. The shaman or medicine man, by virtue of his special gifts and acquaintance with the supernatural world, was able to harness this force.[5]


It is essential for the shaman to contact one or more (sometimes dozens or hundreds) spirit guides. These are often viewed as nature spirits of various types, such as the spirits of plants, animals, or inanimate objects. "Spirit help­ers" related to plants are often used in "healing" and are distinguished from the more powerful "guardian spirits." The latter are often a personal "power ani­mal," from which the shaman derives his psychic abilities, spiritual assistance, and "protection" from evil forces. Basically, the power animal becomes the shaman's alter ego.[6]


Shamans acknowledge that spirit possession supplies their magical powers. In other words, apart from the spirits, shamans are impotent. As Harner observes, "Whatever it is called, it is the fundamental source of power for the shaman's functioning…. Without a guardian spirit, it is impossible to be a shaman, for the shaman must have this strong basic power source…."[7] In his impressive study and standard work on the subject, Shamanism, no less an authority than comparative religions expert Mircea Eliade points out, "All categories of sha­mans have their helping and tutelary spirits…."[8]Anthropologist I. M. Lewis says the shaman is one who "permanently incarnates these spirits" into his own body, and thus "the shaman's body is a 'placing' or receptacle, for the spirits."[9]


The shaman experiences temporary or extended periods of mental illness similar to psychosis and schizophrenia; extended periods of acute physical suffering and torture are also common. I. M. Lewis is professor of anthropology at the London School of Economics and author of Ecstatic Religion: An Anthro­pological Study of Spirit Possession and Shamanism. He observes that, in all cases studied, those experiences constituting shaman initiation "are certainly viewed as dangerous, even terrifying, experiences or illnesses. Experience of [mental] disorder in some form is thus an essential feature in the recruitment of shamans."[10]


How do shamans enter their strange vocation? As Eliade points out (in com­mon with other forms of the occult), the most powerful shamans are produced either by heredity or election. The vocation is passed from generation to genera­tion, creating a shamanic lineage from parents to children or, as we will see, the spirits personally choose the shaman such as during a traditional vision quest.
In Central and Northeast Asia the chief methods of recruiting shamans are: (1) heredity transmission of the shamanic profession and (2) spontaneous vocation ("call" or "election"). There are also cases of individuals who become shamans of their own free will…. But these "self-made" shamans are considered less powerful than those who inherited the profession or who obeyed the 'call' of the gods and spirits.[11]
And this situation appears true for other forms of the occult as well.[12]
If we were to summarize the essentials of shamanism, it would include at least four basic themes: 1) altered states of consciousness or trance, 2) spirit posses­sion, 5) experiences of severe physical and mental illness, 4) spirit travel. Al­though these are not limited to shamanism and, collectively, are found in much occult practice, without them, no one can become a shaman.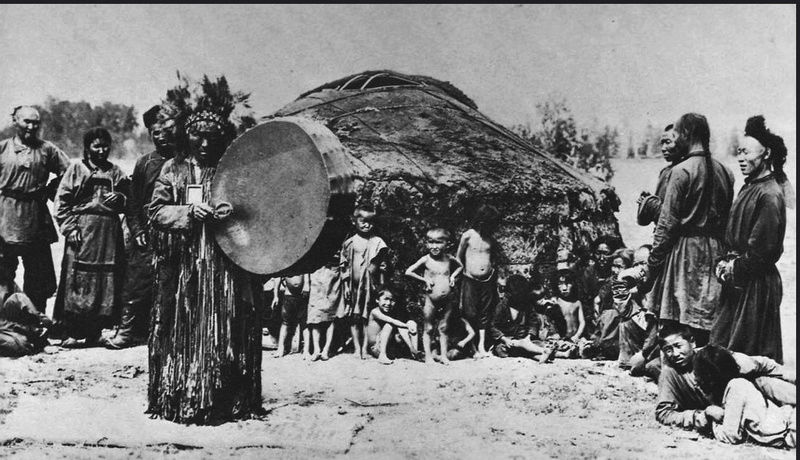 Sometime during the past week, I was conversing with someone about shamanism. Throughout our conversation, I remember that I'd written a paper about shamanism when I was still at Sofia University. Since it's been a couple of weeks since I last shared a paper, I thought that this synchronicity was a good opportunity to share it. This was a paper I wrote for a class called: "Proseminar in Social and Community Process: Culture & Consciousness." In today's post, we'll look at the history of shamanism and the different definitions of shaman.
~
In this paper, I will explore the history of shamanism along with the origins of the word shaman. I will identify varying definitions of what it means to be a shaman and explain some of the different roles that a shaman may carry out. I will identify how some shamans have lost their roles through the development of political/social stratification. I will also examine how it is that one becomes a shaman and have a small dialogue with regard to schizophrenia. To begin, we will delve into some of the history of shamanism along with a derivation of the word 'shaman.'
History of Shamanism
Shamanism has been part of history for quite some time, but that does not necessarily mean that there is agreement within the academic community as to when shamanism began. According to Walsh (1996), "Paleolithic art from Europe dated to over 17,000 [years] ago and from South Africa dated to 25,000 years ago appear to show shamanic practices" (p. 96). However, the earliest known archaeological record of a shaman excavation was from a burial site in Israel, which dates back 12,000 years (Grosman, Munro, & Belfer-Cohen, 2008). Another viewpoint states that shamanic traditions have been around for 30,000 years (Krippner, 2002). According to Rosano (2006), "Evidence from Upper Paleolithic (UP) cave paintings suggest that these ideas may extend back tens of thousands of years" (p. 347). The argument put forth by Rosano (2006) seems to be similar to the arguments put forth by Krippner (2002) and Walsh (1996). Given the similar nature of Rosano (2006) and Walsh's (1996) argument, it seems that there is evidence that shamanism has existed for at least the last 20,000 years. This is by no means an extensive overview of the history of shamanism, but a brief summary from various sources on shamanism. Part of the 'discovery' that humans have existed for as long as they have is because of the cave paintings by some of the first humans. As well, there have been bones of humans that have been recovered that help to date how long humans have been around. Given the way in which the discovery of the first 'human,' it makes it hard to fall onto one side or the other when it comes to the first appearance of shamanism in history. It is possible that shamanism existed 30,000 years ago, but there is concrete evidence that shamans existed 10,000 years ago because of the excavation. Regardless of the argument of the first discovery of humans, it is safe to say that shamanism has existed for at least the last 10,000 years, and there is evidence that suggests that it has lasted for 20,000 years or more. Now that we have come to this inference, let us examine the etymology or the derivation of the word 'shaman.'
'Shaman' originated from the language of a Siberian tribe known as the Tungus (Peters, 1989; Smoley & Kinney, 2006). More specifically, it comes from the word 'saman,' which means "one who is excited, moved, raised" (Walsh, 1989, p. 2). Walsh goes on to say that "[shaman] may be derived from an ancient Indian word meaning 'to heal oneself or practice austerities' or from a Tungus verb meaning 'to know'" (p. 2). It would appear that there is much more consensus on the origin of the word shaman than there is on the first appearance of shamanism in history. It is interesting to note the derivation of the word shaman because it relates to some of the various roles that shamans take on and definitions of shamanism, which we will learn about later on in the paper. Briefly, part of a shaman's role can involve healing and it is frequently tied to an altered state of consciousness, which explains the reference to austerities. As for the 'knowing' part of the etymology, shaman's commonly engage in 'conversations' with spirits in order to gain information to heal. To this point, we have learned that shamanism dates back at least 10,000 years, but there is evidence to support that it has existed for 20,000 years or more, and that the word shaman originated from a Siberian tribe known as the Tungus. In the next section, we will explore some of the various definitions of the word shaman.
Definitions of Shaman
Shamanism has not been a concept with one succinct definition over the years of its existence (Walsh, 2001). However, there have been varying degrees of specificity within the definition. In the broadest definition, "the term shaman refers to any practitioners who enter controlled ASCs [altered states of consciousness], no matter what type of altered state" (p. 32). Given this definition, there is room for mediums and yogis to be classified as shamans. Because of the prestige of shamanism, one might ascertain that shamans would prefer not to be placed into the same category as mediums and yogis, especially since they do different things for their community. There is a definition offered by Michael Harner, who is an anthropologist that "spent years with Amazon tribes in the 1950s and 1960s" (Smoley & Kinney, 2006, p. 158), and later became a shaman himself. Harner (1982) defines a shaman as "a man or a woman who enters an altered state of consciousness at will to contact and utilize an ordinarily hidden reality to acquire knowledge, power, and to help other persons" (p. 25). The definition offered by Harner (1982) is similar to the one offered by Walsh (2001) except in the definition offered by Harner, there is more specificity concerning what the shaman will do when they enter into the ASC. Walsh (1989) offered a much more elaborate, summative, and descriptive definition of shamanism:
shamanism might be defined as a family of traditions whose practitioners focus on voluntarily entering altered states of consciousness in which they experience themselves, or their spirit(s), traveling to other realms at will and interacting with other entities in order to serve the community. (p. 5)
A definition with specificity is much more useful because it identifies the type of altered state, prototypical experiences, and the practitioner's goals (Walsh, 2001). This specific definition allows for much of the ambiguity to dissipate as any traveling anthropologist could use a checklist of the points offered in this definition to determine the 'shaman' in the tribe from the other members. However, there is the possibility that the difficulty in defining a shaman or shamanism is because there really is no real summative definition. Maybe the difficulty in pinpointing an accurate definition of shamanism is because shamans do not call themselves shamans. According to Smoley and King (2006):
This concept [shamanism] is the creation of scholars and anthropologists. Jews regards themselves as Jews, Christians as Christians, even Witches as Witches; but most native shamans do not call themselves that, nor do they think of their religion as "shamanism." The term has been created by academics to describe a certain facet of religious experience. (p. 158)
The argument presented by Smoley and King (2006) is useful in the process of defining shamanism because they tell us that shamans do not want to define who they are nor do they want to define what it is that they do. To this point, we have learned that shamanism has a broad range of definition that begins with an altered state of consciousness and can be as specific as identifying the type of altered state, prototypical experiences, and the shaman's goals. We have also learned that shamans do not like to call themselves shamans nor do they like to call their religion shamanism. In the next section, we will examine how one becomes a shaman for their respective tribe.
As a contemporary shaman living in the urban setting of Chicago, people often ask me, "What is shamanism?" and "How is shamanism different from other forms of meditation and energy work such as Reiki, chi gung, prayer or creative visualization?"
Shamanism is an ancient form of spiritual healing that has been practiced by virtually every culture in the world throughout all of human history. Some people think of it as the origin of all other forms of spiritual expression and energy work. Your image of shamanism may be of indigenous peoples drumming, singing and dancing in rituals to create healing. There are cave paintings in Europe created 40,000 years ago which depict shamanic-style healing rituals, and it's likely that shamanic practices are even older than that.
Many people think shamanism is exclusively a Native American tradition, but it is actually found all over the world. In fact, the word shaman comes from the Tungus tribe of Siberia. Shamanic practices are well known in India, Korea, Africa, Britain, and Austaralia, among many other places. Both men and women throughout the ages have been shamans.
Shamanic healing works on the principle of restoring the vital energy, or soul. The classic example is when an individual has lost parts of his or her soul due to traumatic events in life such as accidents, major illness, physical, sexual or emotional abuse or the loss of a loved one. To remedy this, the shamanic practitioner performs a soul retrieval healing, by doing a shamanic "journey" meditation to find and return lost parts of the client's energy ("soul parts").
However, shamanic healing is not limited to soul retrieval, or only to the healing of the individual person. It also includes mending the broken ties of community on every level: within human society, with nature and with the spirit realm. This may mean restoring the connection an individual has to her body; encouraging a dialogue among the various soul parts within an individual; introducing a person to his spirit guides; connecting a client to the more-than-human matrix of Nature; or helping a person find her expressive "voice" through singing and dancing.
Shamanism shares many traits with other forms of prayer and energy work, but we can identify ten characteristic ways of working in shamanism. Not every shaman works with all of them, but the more of the ten you see in a practitioner's work, the more that practitioner is shamanic in his or her approach.
Works with spirit realm and spirit guides – Shamanism deals with going into altered states of consciousness to find healing and wisdom. In this altered state, we perceive all existence as being a big energetic field. The world is filled with spiritual beings and energies: angels, ancestors, totem, animals, gods, goddesses, nature spirits. These helpful spirits guide us to healing and wisdom.
Heals through shifting energy – As contemporary shaman Bradford Keeney says, "Shamanism has nothing to do with how many beads someone has on a costume. The goal of the shamanic practitioner is to shift energy." Healing is accomplished through returning energy that has been lost or unblocking the flow of energy, which may happen through direct energetic healing or through gaining information.
Solves problems in daily life - shamanic work is not about simply having visions of the spirit realm, but to help self and others gain healing and wisdom in our daily lives. We work in concert with the spirits to improve the whole Web of Life.
Travel out of body to the 3 Worlds– shamanic work involves "journeying" out of body into the spirit realm to work with the spirit guides for healing and guidance. Journeying is done to three different Worlds or planes of existence: the Upperworld, Middleworld and Lowerworld. The typical vision is to go through a tunnel, come into a place of nature (Journey Center) where you meet your team of spirit guides to ask for healing or information.
Empowers the soul – shamanism heals and empowers the soul, which is the vital essence or unique individual Self. Through healing and restoring this spiritual power, many physical, mental and emotional issues are resolved. Soul is in between ego and spirit. Ego is the surface and limited sense of self, while spirit is the Great Cosmic "Soup" of all energy that encompasses all that is. Soul is what you came to this lifetime to accomplish: all the talents and the mission you were born with to contribute to the world.
Heals the Web of Life – shamanic healing is not only about healing the individual, but equally includes healing human society, the spirit realm and nature: the whole Cosmic Web of Life. Some shamans work almost exclusively healing nature, or with the spirit realm.
Grounded in nature – the shamanic practitioner gratefully utilizes the powers of nature for healing, transformation and restoration of energy and to stay grounded in the physical plane.
Grounded in the body– shamanic work is not just about having mental visions nor does it try to transcend the body. It addresses feelings and intuitions from within the body and heals what psychologists would call psychosomatic issues.
Grounded in expressive arts – shamans throughout the ages have used singing, dancing, drumming, storytelling and visual art as ways of shifting energy, expressing their visions and creating healing. The healing that shamans perform encompasses the work done in such modern healing modalities as movement therapy, sound healing, psychodrama and color therapy.
Face shadow side – shamanic healing often confronts the "shadow side", drawing out the full range of energies and emotions including anger, sadness and fear to create cathartic healing.
Shamanism is deeply connected to nature as well as the abundance of our Earth's teachings. It is the oldest form in which humanity has sought connection with creation. It is the oldest way of healing the individual, dating back as far as to the Stone Age.

Aspects of shamanism were encountered in later, organised religions, generally in their mystic and symbolic practices. Greek paganism was influenced by shamanism, as reflected in the stories of Tantalus, Prometheus, Medea, Calypso among others, as well as in the Eleusinian Mysteries, and other mysteries. Some of the shamanic practices of the Greek religion were later adopted into the Roman religion.

There is a strong shamanistic influence in the Bön religion of central Asia, and in Tibetan Buddhism. Buddhism became popular with shamanic peoples such as the Tibetans, Mongols and Manchu beginning with the eighth century. Forms of shamanistic ritual combined with Tibetan Buddhism became institutionalised as the state religion under the Chinese Yuan dynasty and Qing dynasty. One common element of shamanism and Buddhism is the attainment of spiritual realisation, at times mediated by entheogenic (psychedelic) substances.

The shamanic practices of many cultures were virtually wiped out with the spread of Christianity.

In Europe, starting around 400 CE, the Christian church was instrumental in the collapse of the Greek and Roman religions. Temples were systematically destroyed and key ceremonies were outlawed. Beginning with the middle ages and continuing into the Renaissance, remnants of European shamanism were wiped out by campaigns against witches. These campaigns were often orchestrated by the Catholic Inquisition.

The repression of shamanism continued as Christian influence spread with Spanish colonisation. In the Caribbean, and Central and South America, Catholic priests followed in the footsteps of the Conquistadors and were instrumental in the destruction of the local traditions, denouncing practitioners as "devil worshippers" and having them executed.

In North America, the English Puritans conducted periodic campaigns against individuals perceived as witches. More recently, attacks on shamanic practitioners have been carried out at the hands of Christian missionaries to third world countries. As recently as the nineteen seventies, historic petroglyphs (prehistoric rock drawing) were being defaced by missionaries in the Amazon.

It has been postulated that modern state campaigns against the use of psychedelic substances are the offshoot of previous religious campaigns against shamanism. Today, shamanism, once universal, survives primarily among indigenous peoples. Shamanic practice continues today in the tundra's, jungles, deserts, and other rural areas, and also in cities, towns, suburbs and shantytowns all over the world. This is especially widespread in Africa as well as South America, where "mestizo shamanism" ( combined ancestry) is widespread.

Many recent efforts have been made trying to link shamanic practice and knowledge with Western, scientific beliefs. Anthropologist Jeremy Narby has proposed that shamans take their consciousness down to the molecular level, working with DNA and viruses that they see as the twin serpents or malicious "darts". The holomovement theory proposed by David Bohm is often seen as an approach to create a scientific foundation for concepts such as parallel worlds and alternative ways to traverse time and space.
The relationship between shamanism and Native Americans may seem a little puzzling. After all the word "shaman" is not a Native word, nor does it have its origins within Native American culture. The word "shaman" is obviously a translation. To understand this, we must know what a shaman is.
Big Head, ca. 1905. Library of Congress Edward S. Curtis
[size=46]What is a Shaman?
According to anthropologists and ethnologists, shamans have been around since before recorded history. The word originates from the language of the Tungus people of Siberia. It can directly be translated literally to "one who works with fire". In a more practical sense, the word "fire" was always very directly associated with life in ancient times.  (Meadows) Fire is what allowed man to survive; it cooked food, it provided warmth and brought change in so many ways. A man without fire was not a living man. The title of shaman was given to the highest and most respected individuals. A shaman is a warrior, a healer, an explorer, a teacher, an artist and a leader. (Stevens) They have an understanding of the world and how it works, not only in the physical but also the non-physical. A shaman is able to see what other cannot. They can walk beyond the realm of logic that transcends space and time. Shamans believe that man is very privileged and has the power to change and shape the world. (Meadows)
[size=46]Shamanism is not a Religion[/size]
Shamanism is not some new religion or the return of some ancient one. It is a basic fundamental human philosophy. There are no there are no sacred writings or dogma to be bound by, it does not rely on faith but on personal experiences. Knowledge comes from doing and practicing. The philosophy is very natural and holistic. It recognizes that everything is made of energy, that everything is interdependent and mutually supportive in a greater energy system. It has a historical presence in nearly all cultures around the globe. Ancient peoples from different regions not connected by land or language share similar shamanic practices. Shamanism does not oppose religion but can be used as a tool to better your understanding of your own physical, mental and spiritual abilities. It is the most natural of all philosophical and metaphysical systems because it operates within natural laws. (Meadows)
Siksika medicine lodge in winter. 1912. Photo by Roland Reed. Source – Library of Congress
[size=46]How does Shamanic Practice relate to Native Americans?[/size]
In the modern world, most ancient shamanic knowledge in the world has been lost or diluted by the thousands of years of technological advances and suppressing religious beliefs. Native Americans have maintained a much closer relationship to their traditional beliefs and connection with nature. Their Shamanic practices remain better preserved. (Meadows) The first foreign translation for Native American shamanism was Medicine man. A medicine man is a traditional healer or spiritual leader with a purpose to secure the help of the spirit world. A Native medicine man or woman promotes the harmony between human and nature by bridging the natural and spiritual world. (Wikipedia) The word "medicine" greatly oversimplifies its true meaning. It can usually be synonymously used in place of the words "power" or "knowledge," much like in the terms medicine bag or medicine wheel. Shamanism incorporates a broader meaning to the practices performed by Native American medicine men or shamans, as it is connected to similar ancient philosophical practices human cultures have performed throughout history.
[/size]
Now, there is a lot of garbage and misinformation on the Internet no matter what subject you're talking about, but American Indian religion and spirituality has got to have the worst signal-noise ratio of any of them. The 'information' out there about American Indian religions ranges from inaccurate school projects by seven-year-olds, to deeply biased generalizations about the 'heathens' written 300 years ago, to hucksters pretending to be Native American shamans to scam money off of people, to useful and interesting information about actual American Indian religious traditions past and present. Sorting through these sites can be a nightmare. I wish you a lot of luck with it. Before you start, let me give you a few words of experience. 

There are two reasons to be looking for information on Native American religions. The first, and easier to address, is educational. Either because you're a student who's been assigned to or just out of intellectual and cultural curiosity, you would like to learn more about how American Indians, or a particular tribe of American Indians, view the world. If that's you, then your main problem is going to be identifying the authentic and trustworthy sources. Indians are happy to talk about their beliefs and spiritual practices, both historically and in the modern day. Unfortunately, so are plenty of ill-informed non-Indians (or people of Indian descent) who think they know a lot more than they do. And so are those unscrupulous souls willing to pretend they're something they're not in hopes of making a buck or getting a little attention. My best recommendation is to get a Native American book out of the library as well as looking on the Internet, since any quack shaman can put up a website but it's a lot harder to publish a book. I also suggest ignoring and avoiding information about American Indian spirituality presented by anyone: 

1. Offering anything religious for sale. Money is never accepted by authentic holy people in exchange for Indian religious ceremonies like sweat lodges or sun dances, nor for religious items like medicine bags or smudged items. (They might sell arts and crafts, of course. Use your common sense--a devout Catholic might sell you a hand-carved crucifix to hang on your wall, for example, but he wouldn't sell communion wafers over the Internet or charge you admission to bring you to his church! Selling dreamcatchers or fetish carvings online is one thing, but don't believe information provided by anyone who is trying to charge people for smudging or blessing anything, offering healing prayers, or letting people take part in a sweat lodge or dance. They are not authentic sources of information.) 

2. Inviting you into their religion on their webpage. Authentic Indians may seek to educate strangers online, but actually adopting an outsider as part of their culture is only done face-to-face and after knowing the person for some time. 

3. Claiming to be American Indian shamans , talking about tarot cards and Wiccan/pagan things, or talking about crystals and New Age things. I've got nothing against shamanism, paganism, or the New Age, but a cow is not a horse: none of these things are traditionally Native American. Shamanism is an indigenous Siberian mystic tradition, Wicca is a religion based on ancient European traditions, Tarot readings are an Indo-European divination method, and the New Age is a syncretic belief system invented, as its name suggests, in the modern era. None of them have anything to do with authentic Indian traditions, and anyone who thinks they do is likely to be wrong about anything else he claims about Native American religions as well. Wiccans and New Agers don't have any more knowledge about actual American Indian beliefs than you do. 

4. Identifying only as 'Native American' or 'American Indian' (an authentic person would list their actual tribal affiliation). Be a little wary, too, of people trying to speak with authority who identify as "mixed-blood" or "of Indian descent" or having a "Cherokee ancestor." There are certainly some mixed-blood people who were raised in their tribe's culture, but many more were not. A person who has rediscovered his Indian heritage as an adult is a seeker, not a teacher. He is not qualified to speak authoritatively about Native American religion or culture, for he wasn't raised that way and doesn't have any more knowledge about it than anyone else learning about it second-hand--including you. 


If you're trying to learn about American Indian religion because you want to become a 
part
 of it, though, you not only face that problem, but another, much deeper one as well
:
 American Indian spirituality is not evangelistic. It is private and entirely cultural. You cannot convert to 'Native American' any more than you can convert to African-American or Korean or any other cultural identity you would need to be raised in to understand. (In fact, many Indians--myself included--are Christians in addition to our traditional tribal beliefs, just like many African-American and Korean people are Christian in addition to having an ethnicity of their own.) The only way to 'join' a Native American spiritual tradition is to become a member of the cultural group, and it's impossible to do that over the Internet. No one who truly believed in American Indian spirituality would ever offer to tutor total strangers in religious matters online, much less charge anyone money for such a thing. So, by definition, the people who make these offers are those who either don't really believe in Native American spirituality, or don't know very much about it. Is that really who you want to be listening to? 
On our site, we have generally given people the benefit of the doubt with our links, including websites unless we are sure there is a reason not to. Regarding Native American religion and spirituality, however, we have decided to err on the side of caution instead. Anyone who is looking for a new religion or seeking spiritual truth is a needy individual and I will not contribute to their being used by irresponsible people. If you are reading this page because you are a person in need of religious and spiritual guidance, I urge you strongly to seek out some religions that are evangelistic rather than cultural (one of the many Christian churches, Buddhism, Baha'i; there are many choices) and talk to spiritual leaders there until you find one that can help you. Falling under the influence of a false 'shaman' will only hurt you spiritually. 
Since I have put this page up, I have received many anguished emails saying "But my grandmother was part Cherokee... are you telling me to just forget that part of myself? How can I honor my Native ancestors if you won't share your religion with me?" The answer is simple
:
 honor them the way they would want to be honored. Don't pay some new-age guru $250 to perform fake "Native American" rituals that would have offended your ancestors, go physically to their tribe and re-connect with their other descendants. It will be hard work convincing the people there that you are genuine but if you go with humility and patience you will eventually be accepted, and that is the ONLY way you will ever become part of the spiritual tradition you desire. There is no shortcut to that. Native spirituality belongs only to the cultural group, and anyone who tells you otherwise is trying to make some money off of you and/or to take a power trip at your expense. 
You've been warned. Good luck, with whatever it is you're looking for. You're probably going to need it. 
Orrin 
Page 1 of 8 • 1, 2, 3, 4, 5, 6, 7, 8


---
Permissions in this forum:
You
cannot
reply to topics in this forum